Interested in learning about types of specific natural disasters? If so, you have come to the right place. Welcome to this article where will explore some facts about tornadoes, how they form and several more interesting stories related to these disasters.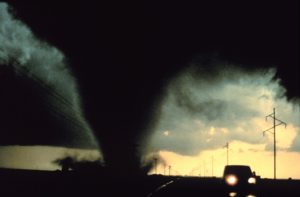 Definitions & Basic Tornado Facts
A tornado is a violent weather occurrence that consists of a rapidly spinning funnel of air, typically in the vertical direction.
They are also known as twisters in the United States.
Tornadoes typically occur in most areas of the world but are especially common in an area called 'Tornado Alley' in the United States. They are fairly common in parts of Africa, Europe, Western & Southern Australia, Asia, and South America as well.
Tornadoes can reach wind speeds of up to 250 miles per hour so you could probably imagine their strength. They are powerful enough to tear the roofs off buildings, hurl around objects weigh several tonnes and uproot large trees and throw all of these hundreds of meters away!
They can last different distances and durations. In some cases, they can cause havoc in under 10 minutes by traveling 5-10 miles. In rare cases, they can last several hours and travel around 150 miles.
Scientific Facts
So how do tornadoes actually form? Let's take a look. A tornado begins when a horizontal spinning effect occurs. This is normally due to a combination of changes in the direction, temperature, pressure, and speed of wind.
Typically, tornadoes form from a cluster of thunderstorms called 'supercells'. These supercells are associated with mesocyclones, which are spinning regions of air further up in the atmosphere. When the mesocyclone region forms below the cloud base, it causes air to ascend.
Once the air begins to ascend or rise up, there is a shift from the horizontal to the vertical plane. This is what finally forms the vertically spinning funnel of air.
After formation, the tornado requires power by funneling in warm air inwards. This enables it to grow until it reaches maturity, and from this point, it becomes the most powerful. The mature stage can last up to an hour and causes a lot of damage.
Tornadoes tend to spin the cyclonic direction. This direction depends on where in the hemisphere it occurs. It spins clockwise in the southern hemisphere and anti-clockwise in the northern hemisphere. Only 1% of tornadoes spin in the opposite direction. Isn't that a fascinating fact about tornadoes?
Tornadoes can form in many shapes and sizes depending on the weather conditions. Typically, they can be of a wide funnel shape and have a wide damage path. The widest tornado on record was 2.6 miles in El Reno, Oklahoma! On the other hand, they can be thin-shaped like a rope. An example of this was a tornado that was only 2 meters wide!
When considering path length, this is dependent on several factors too. A tornado which affected Missouri, Illinois and Indiana traveled for around 220 miles. These types of long distance travelers consist of a group or 'family' of tornadoes that form in rapid succession.
How does a tornado end? Essentially, this is to do with its power. Once the air supply begins to weaken, the vortex of the tornado becomes weak. The funnel becomes thinner and this dissipation stage lasts only a few minutes. Once this is done, the tornado ends. It is important to know that, although the tornado is perceived to be weak during the final stages, it can still cause a lot of damage.
Types of Tornadoes
As is the case with most natural phenomena, tornadoes can be classified under different categories and types.
Waterspout:
A tornado that forms above a body of water is defined as a waterspout.
Typically, these types are less powerful and cause insignificant damage as opposed to their land counterparts.
They rarely suck up water and mostly consist of weak columns of spinning air.
If the columns spin extremely fast, they have the potential to suck up any marine life that are within a yard of the surface of the water. Small-sized animals can be lifted right up to the forming cloud. This is a hypothesis that explains the phenomena of raining fish and other animals.
Landspout:
A tornado that does not form through a mesocyclone is characterized as a landspout.
Landspouts are similar in appearance to a waterspout. They have a smooth, tubular shape.
These types are much weaker compared to a general tornado, causing less damage and only lasting around 16 minutes.
Multiple Vortex Spouts:
A tornado in which two or more columns of spinning air rotate around a single axis at the same time while sharing a common center is defined as a multi-vortex tornado.
Multiple vortices can occur through various circulations but are most common in powerful tornadoes.
Each vortex can create an area of high damage in addition to the normal tornado path.
Dust Devil:
A dust devil is essentially a strong whirlwind that can be 0.5 to 10m wide.
These types are extremely harmless and are no stronger than the weakest of tornadoes.
Dust devils are most common in areas where the terrain is flat and dry with clear sky conditions and cool atmosphere temperatures.
Gustnado:
A shallow vortex with a short lifespan that is associated with a 'downburst' of a thunderstorm is classified as a gustnado.
These form when cold, fast moving air from the thunderstorm meets warmer, moist air. With the right wind speed and conditions, when the air rotation meets the ground, it forms the gustnado.
In terms of the damage they create, they are not too powerful but they can create patches of rotational wind damage among areas of straight-line damage.
Other less common versions of tornadoes include 'fire whirls' which are small tornado-like phenomena near heavy heat sources, and 'steam devils' which are spinning updrafts associated with steam and smoke. These are dependent on the conditions of the weather, specifically atmospheric temperature, wind speed, and air pressure.
Intensity of Tornadoes, Detection, and Safety
Based on the information that we have covered so far,  it is clear that tornadoes can have varying strengths, types and classifications. Can these tornadoes be classified by their strength? And how do we usually detect any warnings of a tornado forming?
The strength of tornadoes can be used to group them into specific classifications using the Fujita Scale and the Enhanced Fujita (EF) Scale. The EF scale was created as an upgrade from the normal scale and uses better damage descriptions. Therefore, the EF scale is what is currently used to classify any tornado occurrences.
The classification is given from F0/EF0 to F5/EF5 in increasing power. An EF0 tornado can damage trees but does not usually harm any buildings. On the other hand, and EF5 tornado has the power to completely rip a building off its base and can even defame large skyscrapers.
The majority of tornadoes up to 80% occur in the EF0 and EF1 Category. Less than 1% occur in the destructive EF4/EF5 categories.
The most common and effective method of detecting a tornado is using radar technology. In countries such as the United States, doppler weather radar stations are used where they contain machines that can measure wind speed and radial direction within a storm. By detecting rotation from hundreds of miles away, they can tell if a tornado can form.
Modern doppler radars can even detect mesocyclones within thunderstorms which enable meteorologists to quickly predict tornado formation within storms.
The US National Weather Services also implemented a program to train people to act as 'storm spotters'. These individuals are trained to look out for signs of severe weather and immediately report such phenomena. Storm spotters help to confirm any radar detections by giving a visual report and verifying the threat.
The US 'Skywarn' program currently has around 240,000 people trained as storm spotters. In Canada, the 'Canwarn' program has around a 1000 individuals who further identify signs of any unusual weather.
Despite the warnings, there is a 70% chance that the tornado is actually a false alarm!
Once a threat is verified, meteorological agencies will create a weather forecast and alert populations and communities where the weather is unstable. In the United States, weather radios are used to provide alarms for the affected areas once a severe warning has been issued.
When a tornado is likely, it is recommended that any sturdy shelter is sought immediately. The safety places tend to be a basement or an underground area. This is why most houses in the Tornado Alley region tend to have a bunker for protection against tornadoes.
Seeking protection under an overpass is considered to be extremely dangerous as the wind speeds are accelerated in a confined space. This can be life-threatening and cause fatalities so it is not recommended to seek shelter in such a place.
Some interesting facts about Tornado events
This is a sad tornado fact. The deadliest tornado in history is the Daultipur-Salturia Tornado of 1989 in Bangladesh. It killed a record of around 1300 people and caused damaged around $1.5 million USD.
One of the largest tornadoes ever recorded was the Tri-State Tornado of 1925 in the United States. It was classified as an F5 tornado, traveling around 220 miles (longest path length), lasting around 3.5 hours (longest duration) and it had a wind speed of 73 mph (fastest speed).
A tornado that affected Kansas created a 'rain of debris' where strange objects were thrown over large distances. For example, a sack of flour had broken through the roof of a house 110 miles away and a cancelled cheque from a Kansas bank was discovered in a field 300 miles away in Nebraska!
During a tornado outbreak in Ohio, a house was completely destroyed except for a single kitchen table that still had 36 unbroken eggs on top of it!
A powerful tornado in Kansas was discovered to have driven wooden splinters into a fire hydrant made of iron. Can you imagine the speed at which the wood must have been traveling to pass through iron?
People can get carried by a tornado too! One man, Matt Sutter, lived to tell the tale. He was carried by the updraft by over 1300 feet and managed to escape with no life threatening injuries.
A town in Kansas was hit by a tornado each year for three consecutive years on the same date! This happened on May 20th of 1916, 1917 and 1918.