Do you want to learn facts about Winston Churchill? One of the most influential figures of the 21st century was Sir Winston Churchill. He was widely known for his encouraging speeches and his leadership of Britain during the Second World War. Welcome to this article where we will take a look at the impressive life of this outstanding gentleman!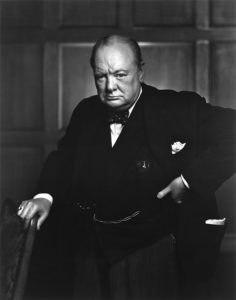 Interesting Facts about Winston Churchill
1. He was born with a silver spoon in his mouth!
Winston Leonard Spencer Churchill was born on the 30th of November, 1874 at Blenheim Palace, Oxfordshire into an aristocratic family. The family was part of the country's governing elite, and therefore Churchill had a lot of exposure to politics and governance from a young age.
2. He wasn't the best student.
This might be a surprising fact about Winston Churchill, but he did not perform well during his studies and often had poor academic grades. He was known to misbehave consistently as well. Eventually, he was accepted to the prestigious Harrow College where he excelled particularly well in History. He would eventually go onto study at the Royal Military Academy in Sandhurst where he was accepted as a cadet for the cavalry.
3. Five years of military experience prepared Churchill for the future.
Following Sandhurst, Churchill spent a couple of months in Cuba, followed by India where he worked as both a journalist and a soldier. This was where he wrote his first book, The Story of the Malakand Field Force. These experiences were vital in maturing Churchill's understanding of the military.
4. He became involved into politics but became a prisoner.
In 1899, Churchill left the military and chose to enter politics. During this period, the Second Boer War occurred in South Africa to which Churchill traveled as a journalist. After being a prisoner of war for brief period of time, he escaped the prison but was later appointed as a Lieutenant to the South African Light Horse Regiment.
5. Winston Churchill had several government offices, and this was where he met his future wife.
He had a seat in the parliament, where he served as Undersecretary of the Colonies (1905-1908), President of the Board of Trade (1908-1910), and Home Secretary (1910-1911). This was also the period in which he married the Honourable Clementine Hozier, with whom he would have a son and two daughters. In 1911, he was further appointed as First Lord of the Admiralty where he brought immediate changes to the navy.
6. His strategy and leadership were shown in the First World War (WWI).
As soon as there were rumors of the WWI brewing, Churchill began to prepare the Navy for conflict. He was tasked with overseeing Britain's naval warfare effort and later took complete responsibility for the aerial defense of the country. Numerous plans he proposed were put into action during battle. He also encouraged and pushed for the development of the tank, the renowned armored fighting vehicle. However, one of his ambitious strategies at led to the failed Gallipoli campaign for which he was criticized.
7. He returned to cabinet following the end of the war.
By mid-1917, Churchill returned to the cabinet and completed his term as the Minister of Munitions, followed by Secretary of State for War and Secretary of State for Air. He worked for international affairs such as the establishment of the Iraqi nation in 1921. In between his work in the cabinet, he pursued his writing in greater depth and earned a high standard of living through this.
8. Winston Churchill served his first term as Prime Minister during the beginning of WWII.
Similar to the events before WWI,  he noticed the rebirth of German Nationalism with Hitler and decided to strengthen the naval forces. He eventually succeeded Neville Chamberlain as the Prime Minister of Britain from 10th May 1940. Together with his skills in public speeches and his powerful energy and expertise, he created a strong defense system for Britain. The following year, with America's entry into the war, Churchill fostered an international relationship with Soviet Premier Joseph Stalin and President Franklin D. Roosevelt, forming the Big Three. However, this ended with Roosevelt's premature death.
In 1945, Churchill was not reelected as the Prime Minister, primarily because Churchill was thought to be more of a warrior than someone who could resolve peacetime challenges.
9. Few years after he lost his reelection, Winston Churchill won the election and served his second term as Prime Minister.
He regained his seat as Prime Minister in 1955 and served until his retirement in 1955 when he became 81 years. He went on to become a renowned writer, speaker, and painter, and his multivolume history books on WWII earned him the 1953 Nobel Prize in Literature. He was knighted by Queen Elizabeth II the same year and was declared an honorary American citizen in 1963. Churchill passed away on the 24th of January 1965 at the age of 90.
Sir Winston Churchill is a leading historical figure. His determination, strength, courage, and leadership helped to defend Britain against the perils of war. His iconic pose with the victory sign while smoking a cigar is one that will undoubtedly continue to echo through history and time. I hope that you have enjoyed reading Winston Churchill facts, and if you want to, you can learn more about other historical figures at this page.