Thomas Jefferson is probably one of the most well-known President of the United States. So, do you want to know the facts about this great man? If so, continue to read this article!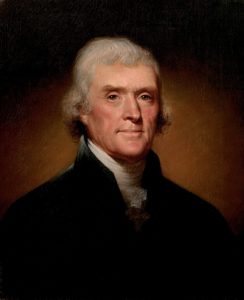 Who was Thomas Jefferson?
In the earliest days when the United States was just laying its foundation, Thomas Jefferson was a very influential person. As the third President of the great nation, he was also one of the most powerful leaders of his time. Not only was he a crucial part of American history, but he also wrote a document that was crucial to its identity, which was the Declaration of Independence.
During his presidency, he was as involved in the Lewis and Clark Expedition and the Louisiana Purchase of 1803. Thomas Jefferson had many interests in his life, and he excelled at every one of them – horticulturist, inventor, paleontologist, archaeologist, polymath, architect, lawyer, politician, to mention a few.
However, he was seemingly mysterious. For that reason, many articles and books praise him as a great leader with a full of mystery and heroism.
Interesting Facts about Thomas Jefferson
1. Thomas Jefferson' tombstone is one of the most unique in history.
Unlike many, his tombstone bears no words about his presidential life. His tombstone is located at his hilltop mansion in Monticello. From his epitaph, it is seen that he was regarded as an author, an advocate, and a founder. However, there is no mention of his presidency.
2. Thomas Jefferson was in the Presidential office for two terms without veto powers.
In history, John Adams was the foremost president of the country who never used his veto powers. However, the first two-termed president who never used his veto power was Jefferson. Meanwhile, both Washington and James Madison reported exercised their veto powers twice and seven times respectively. The reason for his expression was because of his belief that 'veto power' wasn't supposed to play a major role in government.
3. Thomas Jefferson was not good at public speaking.
One would expect such as great writer and politician like Jefferson to be great at public speaking. However, opposite was the case. People often complained about his low tone onstage while they tried to comprehend his inaudible tone. Nevertheless, this didn't mean that the content of the speech was bad. On the contrary, he had great notes but was never confident in his delivery.
His predecessor, John Adams mentioned that he could recall a time in the Congress when Jefferson could only muster three sentences. Therefore, he was always not good in spotlight – a point that shows his private nature. As a logical man, he would always avoid presentations by sending his writings to the State of the Union. The tradition held fast for several years until Woodrow Wilson changed it in 1913.
4. Thomas Jefferson had bad rumors spread about him when he was first running for President.
During his first presidential election, his Federalist opponents spread rumors that Jefferson was an infidel. In early America, most people believed that he was non-religious. The accusations traveled far and wide so much that citizens started hiding their prayer books in well to avoid confiscation.
According to the President of Yale College in that era, Timothy Dwight, Jefferson's victory would mean that women will be polluted and dishonored by means of legal prostitution.
More, the Connecticut Courant mentioned that his election would result in a Civil War while rape, adultery, robbery, and murder will be often celebrated.
5. Thomas Jefferson was a religious man
While rumor about Jefferson' beliefs was bad, he was truly religious. As a child, he grew up as an Anglican but was raised to oppose most religions. As proof that he was of high spirituality and belief and God, he paid mind to the teachings of Jesus Christ and documented his personal library of His teachings. The possible cause of the controversy stems from the fact that he didn't believe in the Divinity of Jesus Christ.
6. He cut off parts of the Bible and made his own version of the Bible.
One of the most controversial facts about Thomas Jefferson is that he cut off parts of the Bible and pasted into a new Bible. He eliminated the things that he didn't agree with and only kept the portion of what he agreed with. This is probably one of the more shocking facts about Thomas Jefferson.
7. Thomas Jefferson wore his clothes too casually.
Unfortunately, Jefferson was famous for his wardrobe selections. Most times, he will wear casual clothes that many people believed were unsuitable for a President. On one of such occasions, he wore informal clothes to receive the British ambassador, which could have caused huge controversy. Jefferson was also the person who replaced the trend of bowing with shaking hands.
8. Thomas Jefferson was a lover of wine.
For someone of his age, he loved wine. His Monticello home featured an incredibly huge wine cellar. On a few occasions, he was spotted with liquor or wine in his hand. Indeed, most of his wines are auctioned at hundreds of dollars.
Jefferson partnered with an Italian immigrant – Philip Mazzei – who commercialized vineyard in the country. His personal wine bill during his two-termed presidency was about $10,835.90 – a huge amount at that time, which costs about $146,254.40 in total in the present day. Unfortunately, his love for wine always incurred a form of debt.
9. Thomas Jefferson has great talent in music
Among his many talents was music and he demonstrated it through his love for the violin. Every afternoon, he will play his violin in practice. To complement his talent, he will hum a few songs to the rhythm of the violin.
If you enjoyed these Thomas Jefferson facts, then you should read more about other historical figures. All you need to do is visit the historical figures page.