Welcome to this article about Sir Walter Raleigh! Raleigh was a characteristic Renaissance man of many strengths – he was a courtier, writer, poet and most importantly, an adventurer and explorer. He is known for establishing the Roanoke Colony in modern North Carolina, United States. Raleigh lived an illustrious life until he was put to death after being accused of treason. Let us take a look at the life of this accomplished individual.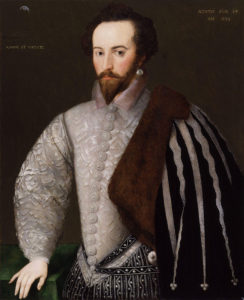 Interesting Facts about Sir Walter Raleigh
1. He joined the army as a teenager.
Very little is known of Raleigh's childhood. He was born between 1552 and 1554 in Devon, England. He was born as the youngest of five sons to Walter Raleigh Sr. and Catherine Champerowne. They were a distinguished family and owned many lands. Raleigh served with the Huguenots (A faction of the English army) during the French civil wars of 1569. Upon returning, he studied at Oriel College, Oxford but he left a year later.
2. He was recognized by Queen Elizabeth I.
From 1579 to 1583, Raleigh joined the army that fought during the suppression of the Desmond Rebellions. He even led the faction that killed 600 soldiers of Spain and Italy. Due to his courage, he was immediately noticed by Queen Elizabeth I. She began to take a deep interest in Raleigh, rewarding him with a knighthood in 1585, lands under his name and finally appointing him as the Head of the Queen's Guard.
3. Raleigh was granted a charter to explore and colonies the New World.
In 1585, the Queen chartered Raleigh to travel to the New World (present day North America) and authorized him to lead the exploration and colonization of the areas within a seven-year period. Raleigh delegated a team of men to establish the Roanoke colony which was also known as the Lost Colony. This is still considered as mystery, as the settlement of people who were sent from England to the colony had disappeared. Speculations include the fact that the colonists may have moved to another island or may have starved/swept away by sea.
4. The Queen imprisoned Raleigh when he married.
Raleigh married one of the Queen's Ladies-in-waiting, Elizabeth Throckmorton, in secret. Together, they had one son but he lost his life during the plague in October 1592. Eventually, the Queen came to know of the secret marriage and was infuriated so she sentenced both Raleigh and his wife for imprisonment in the Tower of London. Later, the couple was released on the condition that Raleigh should recover the treasures from a Portuguese ship for the Queen.
5. Raleigh searched for El Dorado, the City of Gold.
When he acquired a Spanish account that described a golden city by the Caroni River of Venezuela, Raleigh decided to explore this. The expedition began in 1595 but it was not successful as no City of Gold, or any gold for that matter, was discovered. However, all was not lost; Raleigh managed to explore new lands, particularly that of present day Guyana and Eastern Venezuela. He returned to England and wrote his book, 'The Discovery of Guiana' but critics claimed that Raleigh exaggerated most of the discoveries that he made during this expedition.
6. He was an accomplished poet.
Raleigh was known for his plain, simple style of poetry without detailed ornamentation. He is considered a 'silver poet', a renaissance poet who resisted the influence of intricate poetic devices. Nevertheless, his poetry was considered to be effective and deep, particularly under the themes of love and beauty and he gained inspiration from real life events. His dramatic works include 'The Nymph's Reply to the Shepherd', 'The Lie' and 'If Cynthia be a Queen' (supposedly related to Queen Elizabeth I),
7. He was imprisoned for 13 years.
In 1603, Raleigh was accused of plotting a coup against the late Queen's successor, King James I. Despite his denial of any participation, he was convicted of treason and the King had him imprisoned in the Tower of London. During this imprisonment, he would write a history book named 'The History of the World'. Ultimately, Raleigh was pardoned and released by the King and he set on his second quest to El Dorado.
8. The second quest by Raleigh was not successful and resulted in his final death.
During the second expedition, a group of Raleigh's men attacked a Spanish colony, which was against the conditions set by the King for his release. The Spanish ambassador demanded that King James bring back the death sentence for Raleigh. He was bought to London, accused for treason and beheaded on October 29th 1618. His body was entombed in Westminster Abbey while his head was initially presented to his wife, who embalmed it and kept it at their home. After her death, his head was brought to his tomb.
9. Raleigh introduced several new products to England.
It is worth noting that, through his expeditions, Raleigh introduced several prominent discoveries to England. For example, he is speculated to have introduced the potato to Europe. He was also introduced to tobacco and is thought to have popularized it in England as well.
I hope that you enjoyed reading about Sir Walter Raleigh facts. If you want to read about other historical figures, visit historical people page.