Welcome to this article where we will be taking a look at the life of Sir Francis Drake by looking at some facts! He was an English Naval Captain and Privateer who is regarded as one of the most famous explorers in history.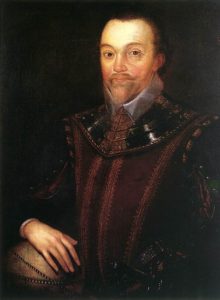 Interesting Facts about Sir Francis Drake
1. Drake's exact birth has not been recorded.
He was born in a city in Devon, England known as Tavistock. Historians speculate that he was born between 1540 to 1544. He was the oldest of twelve other sons, and his father was a farmer by profession.
2. He was introduced to ships from a young age.
Drake's father apprenticed Drake to the master of a barque (a specific type of sailing vessel) that was used for trading and transporting merchandise. Drake did a splendid job with his apprenticeship that his master was exceptionally pleased. Because he was unmarried and childless, he decided to gift the barque to Drake.
3. His voyages into sea started when he was 18 and he was one of the first slave traders.
Drake began his seafaring by sailing into the Bay of Biscay. In 1560s, he was a captain of his own ship. He joined his cousin, John Hawkins. and sailed to the Africas to join slave trading. In Spain, his fleet was attacked by Spanish warships, and Drake cultivated hostility against Spain due to this. In 1570, Drake earned command of two vessels which he used to proceed to the West Indies.
4. He was recognized as a Privateer by the Queen.
Following the West Indies expedition, Queen Elizabeth I granted Drake a commission as a Privateer. This gave him the right to enter Spanish-controlled ports, particularly in the Caribbean. This is exactly what he did. He planned attacks to the Isthmus of Panama and Nombre de Dios (which became his most celebrated victory). After his victories, he returned to England with a lot of loot. In 1577, Drake was ordered by the Queen to explore South America. This was far more difficult because of the issues with the men who shared command. The expedition also attempted to cross the Straits of Magellan.
5. Sir Francis Drake carried out the second circumnavigation of the globe through a single expedition.
Following the South American expedition, Drake decided to head north to find a way through the Arctic Ocean. However, harsh cold temperatures caused him to turn back. So, he anchored near present-day San Francisco and claimed the land around it. He continued to head west through the Pacific Ocean in 1579, moving past the Philippines and Southeast Asia. He then sailed around the Cape of Good Hope (South Africa) and landed in Plymouth harbor. The entire journey lasted from 1577 to 1580. In recognition of being the first Englishman to circumnavigate the world, he was knighted by Queen Elizabeth I herself.
6. He had a strong political career.
After his circumnavigation, Drake was appointed as Mayor of Plymouth in 1581. Later, he became a Member of Parliament where he actively disputed on issues regarding the colony formation, fishing, and the navy.
7. He led the Great American Expedition.
Because of the tension between England and Spain, the queen ordered Drake to attach the Spanish colonies with 25 ships. He began with plundering Santiago in the Cape Verde Islands followed by the sacking of Santo Domingo port, the capturing of Cartagena in Colombia and finally St. Augustine in Florida. Also, Drake saved the colonist from Roanoke and sailed back to England where he was given a hero's welcome.
8. Sir Francis Drake defeated the Spanish Armada.
This is probably one of the most famous facts about Sir Francis Drake. he was second-in-command and Vice Admiral of the English Fleet during the Spanish invasion of 1588. The Spanish Armada was thought to be invincible at this point, but Drake was strategic and disciplined in his command. The crew managed to defeat the ships through a lot of effort after Drake dispersed and broke their formation using fire ships.
9. He continued seafaring until his final years.
Drake continued his career into his fifties.  A series of failures in conquering, beginning from Portugal to Las Palmas, led to a low period for him. During the unsuccessful Battle of San Juan, Drake caught dysentery. In 1596, he died at 56 while the ship was anchored off the coast of Portobelo, Panama. His body was buried at sea near Portobelo, but unfortunately, to this day, his body has never been found.
10. He left a timeless legacy after his passing.
The impact Sir Francis Drake has is evident even in the present day. Numerous places have been named after him, and this is not necessarily restricted to England. Places in the United States such as Drakes Bay also carry his name. His exploits declared him as a hero to the English but a pirate to the Spanish (and the Spanish King even offered a hefty price for his head!). He also passed away with a lot of wealth and had a present day-net worth equivalent to $130 million.
For more information about other historical figures, visit this page. I hope that you have enjoyed this information about Sir Francis Drake facts!