Do you want to know facts about Robert Hooke? If so, you have to come to the right place! Before covering some interesting facts about him, let's start with his background!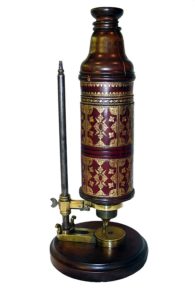 Who is Robert Hooke?
Considered as one of the most important experimental scientists of history, Robert Hooke was an English natural philosopher. He was born in the Isle of Wight. Hooke studied at Wadham College. There, he worked as an assistant of Robert Boyle and Thomas Willis and was part of a group of Royalists led by John Wilkins. As a member of the Society, Hooke made great discoveries, like the law of elasticity or the Hooke's law. However, his brilliance was not recognized for a long time because of the numerous disputes he had with other scientists.
Interesting Facts about Robert Hooke
1. Despite Robert Hooke's frail health, he showed great abilities since his childhood.
Since he was a child, Hooke had health problems such as strong stomachaches and headaches. This is the reason why he was educated at home. People could think that this could cause problems because he wasn't able to go out and play with other kids very often. However, he did not have any personal problems, but he was very interested in mechanical works. He made little watermills and boats that could fire, and he even dismantled a clock made of brass and then he made a functional wooden replica.
2. Before becoming a scientist, he was interested in arts.
When he was young, he had great drawing abilities. When he was drawing, he made his own materials to draw, using things like coal or ruddle. After his father died, Hooke was interested in painting. His other interests included music. At the beginning of his studies in Oxford, he took an organ course and got a place in the chorus of Christ Church.
However, he discovered his passion for science when he entered Westminster School. There, he studied mechanics and Euclid's Elements and perfected his methods while working as a chemical assistant of Robert Boyle. With Robert Boyle, he created the "Machina Boyleana" or "Pneumatical Engine", which was an air pump.
3. He discovered the planet Uranus and other important astronomical elements.
Hooke was responsible for building one of the first Gregorian telescopes. With this telescope, he made the first known description of the planet Uranus. He also discovered the first double-star system, called Gamma Arietis, and formulated some works about the rotation of Jupiter and gravitation.
4. He was also an architect.
Hooke was a famous architect. He played an important role in the rebuilding of London after the Great Fire (1666). He also became Surveyor to the City of London, and he collaborated with the famous architect Christopher Wren, as his chief assistant. Together, they planned the designs for buildings such as the Royal Greenwich Observatory.
5. He was the first person who used the word "cell".
In his book Micrographia, published in 1666, he coined the term "cell." After he observed a sheet of cork under the microscope, he realized that it was made of small cavities, so he called each cavity a "cell."
6. He had several disputes with Newton and other scientists.
Hooke had proposed some aspects about gravitation in Micrographia. But in November 1679, he started to send letters to Isaac Newton where he shared some new discoveries he had made. These discoveries included his first ideas about the inverse square law, which is used to describe planetary motion. In 1686, Newton published Principia, where he presented his theory of this law.
The dispute started because Hooke claimed that he had given the notion of the inverse square law to Newton. In the end, Newton recognized that Hooke had proposed these ideas. However, he emphasized that other scientists had also done it and that all the evidence and mathematical demonstration had been developed by him, not by Hooke.
Other problems emerged during his work as a Curator of Experiments of the Royal Society, a position that he had for 40 years. There, he presented a new experiment weekly, and sometimes he took credit for some that did not belong to him. This is the reason why he gained some enemies.
7. There is no portrait of Robert Hooke.
A few months after Hooke's death, Newton became the new president of the Royal Society and plans to change the headquarters was started. Once they moved, Hooke's portrait disappeared and has not been found.
Some people state that this is the result of a conspiracy where Newton deliberately destroyed his portrait, but Hooke's biographer, Allan Chapman, has denied this theory.
I hope that you enjoyed learning facts about Robert Hooke. For more information, visit historical figures page.