Michelangelo is not only considered to be one of the greatest painters of his time but throughout history. Most of us know that Michelangelo is the painter of the Sistine Chapel ceiling during the Renaissance period. But there are a lot more interesting facts about Michelangelo and this article will give you a few of them. If you are interested in learning about Michelangelo, continue reading this article.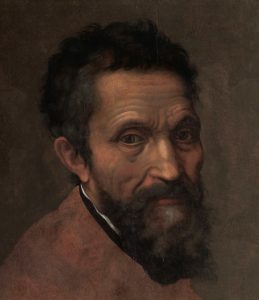 Who is Michelangelo?
Michelangelo was born Michelangelo di Lodovico Buonarroti Simoni on March 6, 1475, in Caprese near Arezzo, Republic of Florence. Today, the area is known as Tuscany, Italy. For generations before him, his family worked as bankers in that area until the banks failed. After this, Michelangelo's father took a governmental post as the Judicial Administrator. A few months after his birth, the family moved to Florence. When he was six years old, his mother died after suffering a long illness. He then went to go live with his nanny and her husband, where they raised him.
Interesting Facts About Michelangelo
1. He Wasn't the First Choice to Paint the Sistine Chapel.
During the time when the Sistine Chapel was to be painted, Raphael was the biggest celebrity painter. However, Michelangelo was quickly catching up. He was also cheaper than Raphael, which meant that Raphael was losing business to Michelangelo. When Pope Julius II asked Raphael to paint the ceiling of the Sistine Chapel, he told the Pope to ask Michelangelo. At the time, Raphael hoped this would prove the he was the better painter. Unfortunately, for Raphael, this plan backfired.
2. First Person to Have an Autobiography Published During His Lifetime.
During and after Michelangelo's life, everyone wanted to get to know every detail they could about his life. In life, people started to call Michelangelo the Divine. Because of this, Michelangelo decided to write two full-length autobiographies.
3. Michelangelo Often Made People Angry.
Michelangelo was known for not always being a very nice person. In fact, he was known to have a temper and could be very moody. On top of this, he was his worst critic and was hard on himself with his work, which didn't always help with his moods. However, his moods and sarcasm could often find him in trouble with other people. One of these men was Pietro Torrigiano, who reportedly punched Michelangelo in the nose, which left Michelangelo with a crooked nose.
4. He Wasn't Very Clean.
While people did not bath back in Michelangelo's times like they do now, Michelangelo was known to rarely bath, even by the standards of his day. Not only did Michelangelo rarely bath but he also rarely changed his clothes. In fact, when Michelangelo passed away, his clothes needed to be cut from him because they were stuck onto his body.
5. Michelangelo Created the "David" Out of Thrown-away Marble.
When he first started out as an artist, Michelangelo became a sculptor. One of the most famous artistic sculpting pieces of Michelangelo's career, David, was created from marble that was basically tossed aside. This fact becomes a little more impressive because Michelangelo was known to be very picky about the marble he used for his statues. Once the statue of the David was complete, it stood at about 17 feet tall.
6. Michelangelo Painted Himself in his Sistine Chapel Painting
Michelangelo painted all around the Sistine Chapel. The picture he painted on the back wall of the Chapel is called "The Last Judgement." In this painting, Michelangelo painted himself. Given the influence for this part of the painting from the Bible, it shows the second coming of Christ. In the painting, Saint Bartholomew is holding the skin of what many people believe looks like Michelangelo.
7. He Became Extremely Wealthy.
Even though Michelangelo looked like he lived poorly and did not take care of himself, he became the richest artist of his time. Not only did Michelangelo make a large amount of money from his jobs like the Sistine Chapel, but he also invested and saved his money well. On top of this, he did not live like most wealthy people did during his time. When Michelangelo died, he was worth about 50,000 florins, which would be around $50 million today.
8. He Lived a Long Life.
Michelangelo lived to the age of 89, which was considered a very long life for his time. He passed away in 1564 after suffering through a short illness. He is buried at the church of Saint Apostoli.
I hope that you enjoyed reading about Interesting Facts About Michelangelo. If you want more facts about other historical figures, I highly suggest going to historical figures page.