Welcome to this article on facts about Michael Faraday, who was one of the greatest scientists in history! He was responsible for pioneering electromagnetic theory and electromagnetic waves, two of the most important concepts in modern-day physics.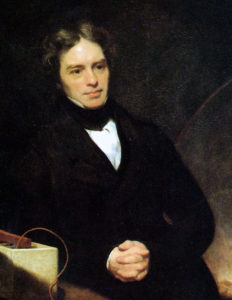 Interesting Facts about Micahel Faraday
1. Faraday was born to a poor family and had a harsh upbringing.
Faraday was born in Newington, United Kingdom on September 22, 1971. Born as the third child, his father was James Faraday, and his mother was Margaret Faraday. Because his father was a blacksmith, he was born to not a wealthy family. The parents struggled to provide for the family and faced severe financial issues. Due to this, Faraday was only educated in a church school and had to do most of his educating by himself.
2. Working as an apprentice bookbinder set him on the path to his future success.
When he was 14, he worked as an apprentice to a local bookseller and binder. Reading books such as Isaac Watts' The Improvement of the Mind helped him immensely in the future. It was also here where he established his interests in electricity.
3. He had an interest in chemistry and physics from a young age.
When his apprenticeship ended, Faraday would attend lectures, including those given by renowned chemist, Humphrey Davy, at the City Philosophical Society. At a later date, a happy accident occurred. Davy injured himself and needed a secretary. Because of that, he hired Faraday as his secretary. Faraday impressed Davy when he presented a copy of the notes he made when attending Davy's previous lectures.
4. Michael Faraday had a happy married life but had no children.
He married Sarah Barnard in 1821, but they had no children.
5. He had tension with his superior a few times.
This might be quite one of the surprising Michael Faraday facts for some people. Following his marriage, friction occurred between Faraday and Davy. This began with Faraday not wanting to cite the contributions of other academics in their publications when Davy was more insistent on this. Later on, in 1863, Faraday succeeded in liquefying chlorine gas. This technique was copied Davy, which further deepened the conflict between the two. However, their relationship happened to become more peaceful after a few years when Davy recommended Faraday's appointment to the post of Laboratory Director for the Royal Institution.
6. He earned a lot of recognition for his work.
Faraday's career brought several accolades and honorary positions to him. He was awarded the Doctor of Civil Letters from the University of Oxford, elected a member of the Royal Society, and became an honorary member of the American Academy of Arts and Sciences. He was even awarded a knighthood in recognition for his contributions to science, but he turned this down on religious grounds.
7. Michael Faraday made several noteworthy contributions to the world of science.
Faraday's contributions to science were vast and ranged across several areas.
He studied the properties of steel alloys, which paved the way towards future developments in alloy production.
In 1820, he synthesized singular compounds of chlorine and carbon.
In 1821, he invented a primitive version of the electric motor following his investigation of magnetism with electricity.
Investigations in electromagnetism led to his invention of the dynamo in 1831.
He further tested with electrochemistry, which enabled him to declare the laws of electrolytic action.
Another crucial discovery Faraday made was through his experiments with polarised light. He proved that light travels through a single plane and when passed through a crystal, only one light propagated in the plane will remain, giving rise to polarised light. This ultimately led to the Faraday effect, which is the rotation of polarised light caused by a magnetic field.
8. He contributed to the public service.
After the productive and triumphant periods of experimenting, Faraday moved onto administrative work for the Royal Institution. He also published his previous research until 1862, when he resigned from the Institution.
9. Micahel Faraday was careful to separate his faith from science.
He followed the Sandemanian sect of Christianity, which is the faith focused on love more than the judgment of a Supreme Creator. His belief became a source of strength to him. However, he was careful to separate science and his studies from his faith.
10. He had a strong moral compass.
The ethical considerations of Faraday were strongly shown when he refused to offer his advice on the production of chemical weaponry for the British government. This was particularly for the Crimean War, but Faraday cited ethical reasoning and refused to cooperate for this matter.
11. Michael Faraday's legacy and impact have shaped our understanding of science.
He passed away on the 25th of August, 1867 at the age of 75. He was offered to be buried at Westminster Abbey but he turned it down and was buried in Highgate Cemetery.  The name of Faraday is one of great significance in the world of physics and chemistry. As an example, the units of 'Farad' and the 'Faraday Constant' are crucial components of electricity and consistently applied in the present day. With the many investigations he carried, Faraday's Laws of Electrolysis, Electromagnetic Induction, and the Faraday Effect have been declared as one of the most significant contributions to science.
I hope that you have enjoyed learning more about this great man, Michael Faraday. For more information on other historical figures, visit historical people page.