Do you want to learn more about Mary Queen of Scot? If so, you will learn a lot from reading this article, facts about Mary Queen of Scot. Let's start with a brief introduction.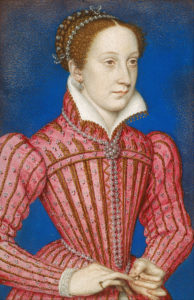 Who was Mary Queen of Scot?
One of the most controversial rulers in history was Mary, Queen of Scots. When she was six days old, James V, her father and King of Scotland, passed away. Because of that, Mary became Queen when she was an infant because she was the only legitimate child. When she was still a child, she was sent to France to marry the future king of France. As a result, she spent most of her childhood in France. When her husband died, she moved to Scotland and reigned. Few years later, she lost her throne and fled to England. Afterwards, she remained in an English prison where she spent most parts of her life before execution. For more details about her life, read the facts below!
Interesting Facts about Mary Queen of Scot
1. Mary was destined to be a queen.
Born in Linlithgow on the 8th of December 1542, she was destined to be a queen. Her father was James V, the King of Scotland, and her mother was Mary of Guise and was from France.
2. Mary was an infant queen.
Six days after her birth, King James V died. By inheritance, she inherited the throne because she was the only legitimate child, and her title became Mary, Queen of Scots. Her elaborate coronation took place at the Stirling Castle on the 9th of September, 1543.
3. Mary signed the Greenwich Treaty.
England and Scotland, on the 1st of July, 1543, signed the Greenwich treaty. Technically, she did sign the treaty, but I doubt that she did physically sign it. Why? Because the treat was signed less than one year after her birth! The treaty basically sought to unite the two kingdoms of England and Scotland. To do that, King Henry VIII's son Edward was to marry Mary Queen of Scots. However, that treaty was broken because of England. England became a Protestant nation after they had signed the treaty and did not want to do anything with Catholic Scotland and its Catholic queen, Mary.
4. Mary also signed the Treaty of Haddington.
Five years after the 'Greenwich' treaty, another treaty – called the treaty of Haddington – was signed. The treaty sealed the promised marriage between Dauphin Francis and Mary in exchange for French assistance in besieging Haddington, a city in England. Because of this treaty, Mary, who was five years old, was transported to France.
5. Mary was a talented girl.
Mary was a very bright girl with multiple talents because of the skills she had acquired during her teenage years. She was proficient in many different things such as poetry, needlecraft, falconry, prose, and horsemanship. Also, she was familiar with languages such as Greek, Spanish, Latin, French, and her mother tongue.
6. Mary was very beautiful.
From her portraits, one could tell that she was very beautiful. As a child, she was very attractive and grew to become a very beautiful woman. This is a fact about Mary Queen of Scots that is not mentioned frequently.
7. She married three times in total.
As you will see in later facts, she married three times! All her marriages did not turn out well, partially because it was arranged marriage. You will later find out that she even became a suspect for killing one of her husbands! Her repeated marriage is one of the most sad Mary Queen of Scot facts.
8. Mary's first marriage was short-lived.
Mary married Francis, the Dauphin of France, in 1554. This was a result of Treaty of Haddington. Five years later after the marriage, Francis' father died, and Francis became king. Unfortunately almost a year later, Francis died as well in 1560. Both dejected and miserable, Mary returned to Scotland on the 19th of August, 1561. It was during her trip that she scribbled the short poem, 'Farewell, my dearest homeland.'
9. Mary's second marriage was disastrous.
On July 29, 1565, Mary married Henry Stuart, who was her first cousin and Lord Darnley. Her husband was also Catholic, which proved to be a problem. Although Scotland was Catholic at first, many people became Protestants as a result of John Knox's preaching. The nobles became Protestants as well, and the marriage to a Catholic caused divisions within the court.
An event that really made the marriage to be disastrous was the killing of David Rizzio, Mary Queen of Scots' secretary. It was known that Mary had an affair with her secretary. One day, when Mary was having dinner with David Rizzio, Darnley and his friends stabbed David and killed him. This proved devastating to the relationship between Mary and her second husband.
10 Mary was the mother of James.
James was born on the 19th of June, 1566 in Edinburgh Castle. He later became James VI of Scotland and James I in England. If you know little bit about the Bible, you probably have heard about the King James Bible. Mary's child was the one who ordered the Bible to be translated into the English language. Is not that a cool fact about Mary Queen of Scots?
11. Mary's Darnley died mysteriously.
Lord Darnley died in February, 1567, near an explosion. When people inspected him, they quickly found out that he did not die from the explosion. He was murdered near the explosion so that people would think that he died from the explosion. The culprits were not found, but many people suspected Mary to have ordered the murder.
12. Her last marriage ended her reign in Scotland.
Mary Queen of Scots married the Earl of Bothwell, but the Scottish nobles did not approve the marriage. In 1567, she lost her throne, and the nobles made her infant son be king. Mary fled to England, which did not prove to be a wise decision. Elizabeth I ruled England, and Mary was her cousin. However, she was not well received because of her actions.
13. She tried to murder Elizabeth I.
There were many instances where Mary tried to murder her cousin, Elizabeth I. Why? Because if Elizabeth I was dead, Mary would be the next in line for the English throne. However, her attempts have been found out, and she became imprisoned. Because of her acts, Mary's death warrant was signed by Queen Elizabeth in 1587. Her execution took place at Fotheringhay Castle on the 8th of February, 1587. Her tomb is in Westminster Abbey where she lays beside her cousin sister, Elizabeth I.
Mary, Queen of Scot, was undoubtedly one of the most controversial leaders in English history. Her life was an unending sequence of unfortunate events, some caused by her action, and some that she had no control over. Her reign was an exact opposite of that of Elizabeth I, which is an interesting comparison. I hope that you have enjoyed learning more about Mary Queen of Scots. To uncover more of these stories and facts about other people, visit historical figures page.