Do you want to know facts about Marquis de Lafayette? If so, you definitely should read this article about life of this great man. Let's start at looking at a brief biography.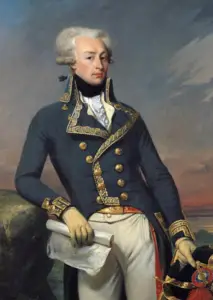 Who was Marquis de Lafayette?
Long before Martin Luther King and Mahatma Gandhi, Jr. Gilbert du Motier was an advocate of civil disobedience. Born in 1757, he became more famous by his nickname, Marquis de Lafayette. During his life, he liberated the Americans from the British leash and forced France out of the grasp of the Bourbon monarchy.  He stood for Napoleon Bonaparte as he was Robespierre's enemy but was friends with George Washington.
Without a doubt, Lafayette was wealthy, but his cause to liberate the slaves and the downtrodden was more important. Unfortunately, only a few people remember Lafayette for the true hero he really was. For this reason, the following points highlight the most interesting facts about him:
Interesting Facts about Marquis De Lafayette
1. His birth name was a very long.
His name was Marie-Joseph-Paul-Yves-Roch-Gilbert du Motier de La Fayette, and the revolutionist was born in France on the 6th of September in 1757 inside an expensive chateau. In one of his writings, he joked about his baptism to ensure he enjoys protection from all the saints.
2. He was convinced by the brother of King George III to wage war against Great Britain.
There was a dinner party in August 1775 whose guest of honor was King George III's younger brother – the Duke of Gloucester. Lafayette was also in attendance. Some months before, the duke had chosen a bride. However, his brother wasn't in support of his choice. Due to this, he became an advocate for liberty and revolutionists against the policies of his brother. Meanwhile, Lafayette had lost his father in the 1759 war against the British. The duke's words were the right motivation he needed to wage war against the empire.
3. Marquis de Lafayette arrived in America as a 19-year-old with no experience in combat.
In 1977, Lafayette defied the orders of King Louis XVI whose intention was unlike Lafayette's – to provoke Great Britain. In a bid to assist the rebels in America, he crossed the Atlantic Ocean as he eluded authorities. Even though he was a teenager and with little experience, he was commissioned a major general in the Continental Army in the middle of the year.
4. He was shot in the calf.
On the 11th of September 1777, Lafayette was shot in the Battle of Brandywine. He organized a retreat after refusing treatment. For the first time, he had command over his division after recuperating for two months.
5. His son was named after George Washington.
Lafayette was as good a father as he was a friend. Therefore, he held his son in high esteem. During the harsh winter in 1777 and till the conclusive battle in 1781, Lafayette was with the Washingtons. In honor of the American revolutionary, Lafayette christened his son as George Washington de Lafayette in 1779. In honor of the state of Virginia and the French queen, Lafayette proceeded to name his daughter as Marie Antoinette Virginie.
6. He started a new breed of dogs when he sent hounds to Washington.
He sent hounds as gifts for Washington in 1785 in 1785. The total number of hounds was seven, and they all crossed the Atlantic Ocean. George Washington, the recipient of the gifts and future president of the U.S., combined the imported hounds with his English foxhounds to produce mixed breeds. This is probably not one of the famous Marquis de Lafayette facts.
7. He was a co-author of a document.
With the help of Thomas Jefferson, Lafayette documented briefs about civil and human rights – an idea that was a product of the American Revolution. On the 27th of August, 1789, the National Assembly adopted his document – Declaration of the Rights of Man and the Citizen.
8. Marquis de Lafayette was a proud and honorary season of America.
Maryland declared Lafayette's citizenship in 1784, followed by other colonies. 151 years later, the U.S. State Department noted that the procedures did not make Lafayette a rightful citizen. But everything changed in 2002 when history recorded Lafayette as a foreign national who was awarded honorary citizenship.
9. He lays in France.
At age 76, Lafayette died on the 20th of May, 1834. And was buried at the Picpus Cemetry where he lays beside his wife. To fulfill his request of being buried in both French and American soil – 'The Hero of the Two World'- his coffin was covered with dirt from Bunker Hill. In 1825, Lafayette laid the cornerstone of the battlefield's monument.
Marquis de Lafayette was a powerful man whose story will always be remembered by history. Hopefully, these facts were helpful in jolting your memory about him. Go to historical figures page to read more.