Welcome to the article: Interesting Facts about Marilyn Monroe. As you may already know, she was one of the most talented actresses of her time and became a symbol of sex and femininity. However, her life wasn't as easy as you might think, so let's start talking about her background before we jump into the interesting facts.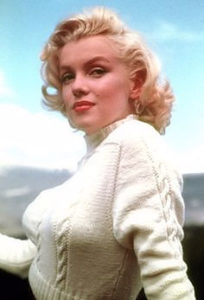 Who was Marilyn Monroe?
Born in 1926, Marilyn Monroe was the daughter of Norma Jeane Mortenson, who had been married before her relation with Monroe's father. After a difficult childhood, Monroe started modeling in 1945 and started acting the following year. She was the protagonist of movies like Gentlemen Prefer Blondes, Some Like It Hot, How to Marry a Millionaire, Bus Stop, and The Misfits. Her acting was always internationally acclaimed by critics. She owns her great fame to the iconic roles she played, her beautiful and provocative image, and her vibrant personality.
Interesting Facts about Marilyn Monroe
1. Her real name was Norma Jeane Mortenson.
The name "Marilyn Monroe" was just the artistic name she chose after she started her career. Her given name was actually "Norma Jeane Mortenson". She chose her artistic name in 1946 when she got a contract in the 20th Century Fox. There, the studio executive Ben Lyon chose the name "Marilyn", after the Broadway star Marilyn Miller. Marilyn selected "Monroe" as her artistic last name because it was the last name of her grandmother.
2. During her childhood, she went from a foster family to another one.
Since Monroe was a baby, her mother had emotional and economic problems. This made her unable to raise her daughter, so Marilyn moved with an adoptive marriage. Once she got a house, her mother brought Marilyn back with her. Unfortunately, a few months later her mother had a nervous breakdown and was sent to the hospital, while Marilyn's custody was given to the best friend of her mother, Grace McKee. With her, Marilyn started being passionate about acting, as she was an actress.
From this moment, she constantly moved with different foster families because of different issues. She was forced to move in two opportunities because she was sexually abused where she was living.
3. She got married to avoid going back to the orphanage.
When she was about to turn 16, Marilyn was living again with Grace McKee. Her husband had received a job offer that obligated them to move, so Marilyn had to go back to an orphanage. To avoid it, she decided to marry James Dougherty, the son of a neighbor. When they got married, Marilyn had just turned 16 and James was 21.
4. She discovered she had a half-sister when she was 12.
Marilyn's mother had been married to a man called John Newton Baker, with whom she had two children. However, she kept this as a secret. When she was 12, Marilyn discovered it and contacted her half-sister, Berenice, as her half-brother had died five years before the discovery. She exchanged letters with Berenice and they met. They had a good relationship throughout Marilyn's life.
5. She was the image of the first cover of Playboy magazine.
The first Playboy magazine was published in December 1953, and Marilyn Monroe was chosen to be the image of its cover. The photo wasn't specifically taken for it. It was an image of her in the Miss America Pageant parade that had taken place the previous year. Also, the centerfold of her was a nude photograph taken in 1949.
6. She went through two minor plastic surgery procedures.
We cannot deny that Marilyn Monroe was naturally beautiful! Her sensual curves, her red lips, and her beautiful hair are part of her iconic image. However, in 1950 she went through a small nose job to lift it a little bit, and some cartilage was inserted in her jaw to define it more.
7. She enjoyed books.
Besides studying acting at the Actors Studio and trying to have stronger roles, Marilyn liked reading. When she died, her library had more than 400 books. She also said that she loved the photos where she appeared reading and that she often visited the Pickwick bookstore during her free time.
8. She experienced two spontaneous abortions.
In 1956, Monroe got married with Arthur Miller and she started shooting The Prince and the Showgirl. At this moment, she already had emotional issues and used drugs. During the film shooting, Marilyn got pregnant and had a spontaneous abortion.
In 1957, she got pregnant again, but the pregnancy was terminated because it was ectopic. In 1958, she got pregnant one more time but had another spontaneous abortion.
9. She won a Golden Globe.
Marilyn always did her best while acting. That's why she was acclaimed by critics and was nominated to several prizes, like the BAFTA. In 1959, she acted in Some Like It Hot, and her brilliant performance gave her a Golden Globe for Best Actress.
10. She killed herself by consuming a lethal dose of barbiturates.
Marilyn Monroe was found dead in 1962 after consuming a lethal dose of barbiturates. Her ex-husband Joe DiMaggio organized a private funeral at the Westwood Village Memorial Park Cemetery. He placed flowers on her grave every two weeks for the rest of his lifetime.
I hope that you enjoyed learning about these facts on Marilyn Monroe. If you want to know more about other historical figures, visit historical figures page.