Did you ever play the game "Marco Polo" as a kid? It's a game where one child is "it" and that child closes his or her eyes while trying to catch another player. The "it" child in the game often yells the word "Marco" while the other kids yell "Polo" to help the child who is "it" try to lead them in their direction while they continue to move in a different direction, so they are not caught. This child's game was named after one of history's most notable explorers, Marco Polo. If you are interested in learning about the person behind the name, you have come to the right article. Not only will you learn a little bit about the man through a brief biography, but you will also get a few interesting facts.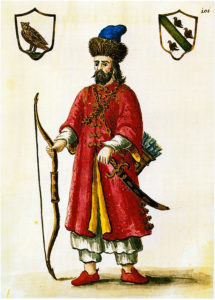 Who is Marco Polo?
Marco Polo was not only an explorer, but he was also a writer and merchant. He came into this world during the year 1254 in Venice, Italy. While we don't know much about Marco Polo's life, we do know quite a bit about his travels because of his writings. Marco Polo learned the merchant business from his father and his uncle, who he often traveled with. He died on January 8, 1324, in Venice, Italy.
Interesting Facts About Marco Polo
1. Over 24 Years, Polo Traveled About 15,000 Miles
When Polo left home at the age of 17, he did not return until he was about 41 years old. During the 24 years he was gone, he traveled through land and sea. He traveled through parts of Asia, the Silk Road, and many people believed he saw the Alaskan Coast years centuries before Vitus Bering.
2. He Introduced the Concept of Paper Money to Europe
During Marco Polo's lifetime, Europe did not create their own paper money. This was a concept unknown to Europeans until Marco Polo saw paper money for the first time during his travels to the Mongol Empire. Polo was impressed by paper money and how the residents cared for it. Not only did he write about it in his book, but he also discussed it as he returned to Europe when he explained the concept of paper money.
3. He Called Rhinoceroses Unicorns
Europeans during the 13th century believed that unicorns were horse-like animals with horns. However, when Polo first saw what he thought was a unicorn, he wrote that the perceptions Europeans had was wrong. He stated that instead of being serene-like animals, they were very dangerous and looked like buffalo with the feet of an elephant. After dissecting his description of his version of a unicorn, historians have come to believe that he described a rhinoceros, which he would have never seen growing up in Europe.
4. He was Superstitious
Marco Polo was known to be a very superstitious person. Not only did Polo believe in sorcery, such as magicians and astrologers who controlled the weather from their roof, but he also believed in evil spirits. Marco Polo believed the myths he came across that stated evil spirits haunted certain places, such as the Gobi Desert.
5. He Might Have Exaggerated Some of His Stories
Marco Polo was known to be an excellent writer, however, for decades historians have wondered how much of what he wrote was true and how much he exaggerated. While this does not take away his legacy, many people wonder if Marco Polo ever really made it to China or if he simply took stories from other travelers he met during his journey.
6. Christopher Columbus Admired Marco Polo
Another historical explorer in history is Christopher Columbus, who was heavily influenced by Marco Polo. In fact, when Christopher Columbus traveled to the New World, he had a copy of Marco Polo's book with him.
7. He Was Not the First European to Explore China
Providing you are someone who believes Marco Polo made it all the way to China, he was not the first European to do so. Before Marco Polo made his way to China, Niccolo and Maffeo Polo went to China where, like Marco Polo, they met up with Kublai Khan.
8. He Introduced Several Animals to Europeans
Not only did Marco Polo introduce paper money to Europeans, but he also came across several animals that Europeans had never seen before. Some of these animals include a Chow Chow, which is a dog breed, the yak, and the musk deer. Out of these animals, Polo liked the yak the best as he even brought an example of yak fur home with him to show off.
I hope that you enjoyed reading about Marco Polo facts. If you did, I highly suggest looking at other historcal figures found in historical people pages.