China is a country considered to be a global superpower in the modern day. Who was most responsible for the establishment of this powerful country? Welcome to this article where we will be discussing facts about Mao Zedong. He was one of the world's most powerful people who is considered as one of the founding fathers of the People's Republic of China. You might find some facts you have never heard before, and also see some facts that you've already known.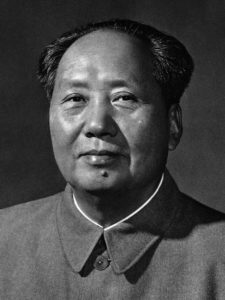 Interesting Facts about Mao Zedong
1. He was born into a wealthy family and had a modest upbringing.
Commonly known as Chairman Mao, he was born on the 26th of December, 1983. The location of his birth is Hunan Province, China. His father was a wealthy farmer and landowner. Although his father was poor at first, he has gained riches by working hard.
2. He had an inclination towards politics since childhood.
From a young age, Mao had an interest in politics, where he read a lot and developed his political thoughts. He was deeply inspired by numerous historical figures such as George Washington and Napoleon Bonaparte. Although he loved learning, he was forced to leave school at 13 and help his father with the family farm.
3. His initial years were diverse but formative, and he moved across different careers.
Mao enlisted as a cadet in the revolutionary army of Hunan, where he served for six months. This ultimately gave him the initial admiration for the military that influenced his views for many years to come. Following his military service, Mao worked in various places such as a police academy, soap-production school as well as economics and law schools. He eventually graduated from the First Provincial School in Changsha in 1918, where he developed his experience in political activity by establishing student organizations. The most famous of these was the New People's Study Society whose members would eventually go on to joining the future Chinese Communist Party.
4. The formation of the Chinese Communist Party (CCP) came under his administration.
At Peking University, Mao worked as a librarian's assistant which became a turning point in his life. This was the point where he met two men who would become vital figures behind the CCP: Chen Duxiu and Li Dazhao. Mao went on to establish multiple organizations that brought the students together with the working class. Finally, in 1921, Mao presented Marxism as the central philosophy of the Chinese Revolution.
5. He was a keen feminist with the establishment of communism.
Although not many people know about this Mao Zedong fact, he was enthusiastic in supporting gender equality and women's rights.This was further supported by his infamous quote, 'Women hold half the sky!'. He worked on several constitutional reforms that would be more accommodating for women. This included equal rights such as the right to go to school, equal job opportunities, and inheriting property.
6. Mao launched the 5 year 'Great Leap Forward' plan
From 1958 to 1962, Mao led this campaign with the goal of transforming the country from an agriculture-based economy to a socialist environment via rapid industrialization. Changes included an introduction of agricultural collectivization, prohibition of private farming, the growth of public struggle sessions, etc. Unfortunately, this plan is thought to have led to the Great Chinese Famine and resulted in the death of tens of millions of people. The plan also saw an economic setback, and historians consider it as 'an expensive disaster'.
7. He had a large family
Chairman Mao was married to four wives, gave birth to ten children, and was the grandfather of 12 grandchildren. Among his children, he lost his 28-year-old son, Anying, in the Korean War. Several people questioned him as to why he let his son enlist in the army, but Mao was thought to have been too stubborn. Anying's death eventually caused Mao so much grief that he did not even eat or sleep and only smoked and sat in silence. This fact about Mao Zedong letting his son enlist in the army is interesting. Not many dictators risk their sons in war.
8. He was powerful right until the very end.
Mao retained his power up until his last days, including when he was physically weakened. He eventually passed away on the 9th of September 1976 following consequent heart attacks. A lifetime of heavy smoking and rumors of Parkinson's Disease are also thought to have affected his health. His funeral rites brought in up to a million people who flocked to Tiananmen Square to pay their respects. The embalmed body of Chairman Mao is openly displayed in his mausoleum even to this very day.
9. He left a prominent but questionable legacy.
Even to this day, Mao remains a controversial figure. His sharp judgment and smart mind helped to reshape the socio-political structures of a powerful country, and he continuously fought against injustice and inequalities. However, he was also perceived to be brutal and ruthless, and his regime may have led to the deaths of up to 75 million people.
I hope that you learned new things from the article about Mao Zedong Facts. If you would like to learn more about interesting facts of other figures, visit the historical figure page!