Welcome to the article: Interesting facts about Mahatma Gandhi. Gandhi is one of the most important figures in the world's history, and he is usually related to the concepts of peace and civil rights. But… How much do you actually know about Gandhi? Let's discover it with this list of interesting facts about him. As usual, we'll start with is background.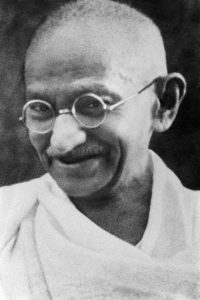 Who was Mahatma Gandhi?
Mahatma Gandhi was an Indian lawyer, thinker, pacifist, and politician. He was the head of the movements that led to the Independence of India, which inspired other independence movements around the globe.
Gandhi was the son of the chief minister of Porbandar, the Indian city where he was born. He had two brothers and a sister. He studied law and legal theory in the University College of London. He also worked as a barrister and overcame his shyness when he joined a group of public speaking. His fight for civil rights started in South Africa and then extended to India, where he got involved in politics and began the movement of independence.
Interesting Facts about Mahatma Gandhi
1. His given name was Mohandas Karamchand Gandhi.
The name his parents gave him was Mohandas Karamchand Gandhi. Since 1914, the honorific name of "Mahatma" was given to him. The meaning of "Mahatma" is "great soul" and its usage is like the one given to "saint" in today's English. Even if he was called Mahatma since then, Gandhi didn't like to be considered as a saint.
In India, people also refer to him as "Bapu", a word that means father.
2. Mahatma Gandhi was heavily influenced by his mother when he was a child.
Gandhi's mother was the fourth wife of his father. She was a very religious woman who taught Gandhi how to do fasting to purify his body, to pray before his meals and to respect other people's beliefs. He was also a vegetarian because of her, as she taught him that he shouldn't hurt any living being.
3. When he got married, he was 13 and his wife 14.
As it was usual in his religion, arranged marriages often took place among teens and preteens. Gandhi's marriage was planned since he was seven. In 1883, he married Kasturbai Makhanji with whom he had a relationship until her death in 1944. They had a child three years after their marriage, but it only survived for a few days. In the following 15 years, they had four children.
4. Although he led the independence movement in India, his fight for civil rights started when he was in South Africa.
After he studied law in London, he went back to India to find a job but the legal field was overcrowded. His search wasn't successful but he got a job offer in South Africa, so he decided to move. There, he suffered from strong racism and noticed that the same happened to all Indians in that country.
He got in troubles several times because he refused to be mistreated for his skin color. For example, he was beaten when he didn't want to give his seat in public transportation to a white man. He started to organize protests and became a civil rights activist.
5. The Salt March was one of the most famous protests organized by Mahatma Gandhi.
The Salt March took place in 1930. It all began because the British government wanted to tax the production of salt. In order to oppose this measure, Gandhi organized a March to Dandi, the place where salt was produced. Gandhi said that he was going to make his own salt.
This is one of the best examples of his nonviolent protests, in which he walked over 240 miles for 24 days and hundreds of people joined him.
6. He chose to live in celibacy when was still married.
Gandhi felt guilty for a long time because of something that happened when his father died. When he was 16, Gandhi's father was really sick and he always looked after him. One day, an uncle visited them and was in charge of Gandhi's father. He decided to go to his bedroom. At night, he was having sex with his wife when a servant interrupted them to tell him that his father had died.
He felt guilty for a long time, so when he was 36 he chose to live in celibacy. He also wrote a lot about his fight against lust.
7. Mahatma Gandhi was assassinated when he was 78.
A year after the partition of the land into India and Pakistan, Gandhi was killed by a man who blamed him for the violent events that took place during the partition. His assassin was condemned to death.
8. Gandhi never got the Nobel Peace Prize.
Although he was nominated to win the Nobel Peace Prize in five occasions, including the year when he died, Gandhi never received the prize. This is quite a shocking fact about Mahatma Gandhi because everyone expects such a great man to receive this prize.
9. He's the only Indian who has been called "Man of the year" by Times magazine.
Times magazine gave the title of "Man of the year" to Gandhi in 1930. It was the year when he led the Salt March and promulgated the Declaration of Indian Independence. He was also imprisoned during that year. This makes him the only Indian who has received the title.
I hope that you enjoyed learning more about Mahatma Gandhi facts. If you want to see more information about other historical figures, visit historical people page.