Do you want to know more about Leonardo Da Vinci? If so, you have come to the right article! Before we get into some facts about Leonardo Da Vinci, let's take a little look at his background.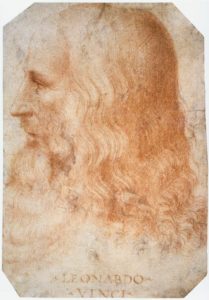 Who is Leonardo da Vinci?
He was born on April 15, 1452. At the time, the location of his birth was known as Vinci in the Republic of Florence, which is now present-day Italy. Leonardo da Vinci's parents were not married, so he was considered an illegitimate child. His father, Messer Piero Fruosino di Antonio da Vinci, was a well-known and wealthy lawyer, and his mother, Caterina, was a peasant. He would grow up to paint some of the most famous images of today, such as the Mona Lisa and The Last Supper.
Interesting Facts About Leonardo da Vinci
1. Leonardo da Vinci did not have a surname.
In the modern sense, Leonardo did not have a surname. What many people consider his last name to be, "da Vinci," was not his last name. Instead, "da Vinci" simply means that Leonardo was from Vinci, which was the city he was born in. The term "da" means "of" so "Leonardo da Vinci" means "Leonardo of Vinci."
2. He had little formal education and training.
Even though Leonardo is considered to be one of the greatest painters in history, he had very little formal training and education. At the age of 14, Leonardo received some education in mathematics and Latin while living with his father. He also studied at the studio of Verrocchio, who was a painter. While Leonardo was studying under Verrocchio for seven years, he learned about several different crafts, such as carpentry, drafting, and plaster casting.
3. Leonardo da Vinci only had one self-portrait.
While most painters who came after Leonardo, such as Monet, Cezanne, Van Gogh, and Picasso painted a number of self-portraits, Leonardo only painted one self-portrait. He painted himself when he was sixty years old. The painting is titled, the Portrait of a Man in Red Chalk.
4. He made lesser-known inventions.
Leonardo was more than just a famous Renaissance painter. He also has several inventions that many people do not know about. A few of these inventions are a diving bell, a pile driver, the armored car, a parachute, a pulley, an underwater breathing apparatus, a life preserver, and a method to concentrate solar power. Isn't that a cool fact about Leonardo Da Vinci?
5. He produced thousands of pages of his work.
During his lifetime, Leonardo produced over 6,000 pages of his work. This work not only focused on his paintings but also on his inventions, inspirations, jokes, and other writing. While not all these works have survived over the centuries, some are located at Royal Library in Windsor, the Victoria and Albert Museum, and the British Museum Library.
6. He was a musician.
Along with being a painter, writer, and inventor, Leonardo was also an accomplished musician during his time. Not only did he play the lyre and the flute, but he was also a singer. In fact, some of Leonardo's musical compositions can be seen today.
7. Leonardo da Vinci did not always finish what he started.
Throughout his adult life, Leonardo had thousands of projects. Some of these projects he completed, while others he did not. If they were his own projects, not completing a project was not a problem. However, these projects were often something he was working on for someone else. When Leonardo was in his 20s, he was hired to create the altarpiece for a chapel in the Palazzo della Signoria. For this project, Leonardo took the money, but he never created the work.
9. He worked on projects for the military.
Leonardo was known to be a pacifist, which is someone who does not believe that war and violence have any justification. However, this did not stop Leonardo from creating pieces which featured weapons, such as a giant crossbow.
10. He was charged with sodomy.
During the middle ages, to be charged and convicted of the crime of sodomy meant that you were going to be executed. During his 20s, Leonardo and a group of friends were charged with this crime. While he was found to be not guilty, this was still a terrible crime to be accused of, and Leonardo soon went into hiding in order to escape the public shame. He reemerged two years later when he was asked to paint a chapel in Florence.
11. Leonardo da Vinci dissected corpses.
He was interested and the human anatomy. The problem was that during his time, there was little known about the human body. Therefore, in order to learn, Leonardo took it upon himself to dissect the human corpses.