Do you want to know more about the life of King Tut? If so, you have come to the right article. This article will inform you of various facts about King Tut so that you will have more insights about his life. However, before we get into the facts, why don't you read a little background about King Tut.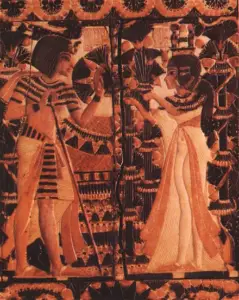 Who Was King Tut?
King Tut is one of the most famous kings in history. Also known as Tutankhamun, he was the Egyptian Pharaoh during the 18th century. Historian believes that he was born around 1341 B.C. and started to rule Egypt in 1332 B.C., which would have made him about 9 years old. He ruled until his death in 1323 B.C., when he was around 18 or 19 years old. We did not know much about King Tut until his intact tomb was found by Howard Carter in 1922. From this moment, Tutankhamun has been known as King Tut and become one of the most well-known Egyptian Pharaohs in history.
Interesting Facts About King Tut
1. King Tut Is The Owner of The Smallest Royal Tomb from the Valley of the Kings.
By the time King Tut passed away in his late teens, Egyptian Pharaohs had been buried in tombs they created for centuries. However, before his time, the pharaohs made some of the most elaborate tombs they could think of. This ended with King Tut. While some people believe that King Tut died too early and, therefore, could not work on his tomb others feel that this elaborate way to bury themselves died down by the time King Tut became ruler. Whatever the reason, King Tut was buried in a tiny tomb that was cut in the floor of the main valley.
2. His Heart is Missing.
Like many others before him, King Tut was mummified. The Egyptians practiced this because they believed in life after death, but only if you were very lifelike after death. In the process of mummification, the organs are typically removed with most of them being preserved elsewhere, except for the brain which was thrown away because they did not realize its use. Furthermore, the heart was left in place because the Egyptians knew it was necessary for life. When King Tut was found and analyzed, the crew realized that he had no heart.
3.  King Tut Is Buried in The World's Most Expensive Coffin.
While King Tut's tomb was a cramped hole in the floor of the main valley, he was buried in what is still considered to be the world's most expensive coffin. The walls of the coffin are basically beaten gold. Today, the world of the coffin would be well over $1 million.
4. His Favorite Possession Was an Iron Dagger.
King Tut was mummified with several items, two of them were daggers which were wrapped in his bandages. One of these daggers were made of gold and the other was made of iron. While King Tut had several items made of iron, the iron dagger was different from all the rest of his items. This dagger was beautifully crafted and imported to Egypt. People believe that because of the placement of the iron dagger, it was most likely used in his mummification ceremony.
5. There is No Curse Surrounding King Tut's Tomb.
This is quite a controversial fact about King Tut. Once people started visiting the Valley of the tombs, several of them started to get sick. On top of this, one of the people who came across King Tut's tomb died of blood poisoning four months later. Due to all the sudden illnesses after visiting King Tut's tomb, people started to speculate that the tomb had a curse. However, further investigation revealed that the journalists who originally started the story exaggerated. On top of this, there were over forty other people who were around when King Tut's tomb was found and none of them died of any blood poisoning or other mysterious illness.
6. King Tut's Death Was Probably an Accident.
King Tut died young and while this was more normal during his time than it is now, it was still rather young, and many believe that his death was an accident. At first, people believed that he was murdered because of the damage to his skull but it was later revealed that the damage happened after his death. Various tests and analysis have shown that King Tut died not long after he received a leg injury from falling off a chariot. On top of this, during the time of his death, King Tut had malaria, which could have aggravated his injury further.
I hope that you enjoyed reading about these facts about King Tut. For more information about other historical figures, visit historical people page.