Welcome to this article where we will be looking at some interesting facts about King John! This King of England is best remembered for sealing the Magna Carta, a document that created a precedent for the present Constitution of the United Kingdom. So let's take a look at the life and works of this influential figure.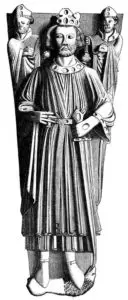 Interesting Facts about King John
1. He was also known as John Lackland.
John was the youngest of 5 sons, born to Henry II and Eleanor of Aquitane on 24th December 1166. He was born to the House of Plantagenet. He was nicknamed 'Lackland' by his father. This was actually a pun due to the fact that John did not inherit any lands when he grew older.
His parents did not play a huge role during John's childhood, which was the custom for English royalty. Along with the rest of his siblings, he was left in the care of a wet nurse instead.
2. He had a relatively standard upbringing of an English Prince.
Like Prince of the English Royal family, he was tutored by a master by the name of Ranulph Glanville. John had an aptitude for hunting, music, and games such as backgammon. He further had a great interest for reading and created his own library of books at a young age.
3. He had a tense relationship with his brothers.
He appeared to have no love for his brothers, and loyalty was not a key virtue of the family either. John was quick to become his father's favorite son. One of his brothers was King Richard the Lionheart. When King Richard was captured and held on ransom during the Third Crusade, John was known to even negotiate with the captors to hold Richard for captive longer. However, Richard forgave John for this selfish act at a later date.
4. Coming from a family of backstabbers, John was thought to have usurped the throne by murder.
Richard himself took over the English Crown by revolting against his father in 1189. However, on his deathbed in 1199, while Richard chose John as his successor, his advisors declared Richard's nephew, Arthur, as the King. In 1202, John launched a rebellion and took several people as captives, including Arthur. It is rumored that John murdered Arthur himself to take the throne.
5. His reign was off to a rough start.
Upon taking the throne, John and King Philip of France signed the Treaty of Goulet as means of acknowledging ownership of the continental Angevin lands. However, 5 years after starting his reign, the French had recaptured the state of Normandy which was the foundation of the family's empire. John attempted to take this back in 1214 but he was unfortunately defeated. This caused the English barons to be very resentful of John's leadership skills and a rebellion followed.
6. John chose to seal the Magna Carta.
Due to several feuds between the rebel group of English Barons and the Crown, John was forced to accept the Magna Carta. He accepted the terms of the Barons and decided to create a document detailing all of this. He also ensured that it acted as a charter declaring peace and resolution between the conflicting groups. This was named the Magna Carta (Latin for the Great Charter). For the first time in English history, it created a means by which the monarch should be compelled to abide by any restrictions of their power. The Magna Carta would go on to becoming the inspiration for both the American War for Independence and the English Civil War.
7. He passed away due to dysentery.
King John died during the very civil war that he himself created, in 19th October 1216 out of dysentery.  As much as he was considered to be treacherous, spiteful and suspicious, he was a literate and cultured ruler as well. He made consistent donations to the Church of England. He further took a strong interest in the financial and judicial administration of the country, and his reign saw the reforms that would form the eventual framework for the current system. King John went down in history as a King who may have had an unstable personality but an acute and sharp political judgment.
I hope that you enjoyed learning more about King John by reading these facts. To view other historical figures, visit historical figures page.