Do you want to know more about the life of Julius Caesar? If so, you have come to the right article. This article will inform you of various facts about Julius Caesar so that you will have more insights about his life. However, before we get into the facts, why don't you read a little background about Julius Caesar.
Probably mainly known as the love interest of Egyptian Pharaoh Cleopatra, Julius Caesar was born during the year 100 B.C. in Rome, Italy. He grew up to be a historian, Roman politician, and military general who played an important part in the fall of the Roman Republic and the rise of the Roman Empire. On top of this, Julius Caesar was also an author of Latin Prose. Throughout his life, he married three times and had four children in total.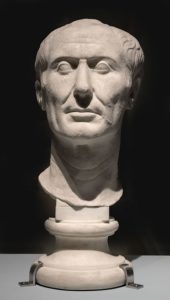 Interesting Facts About Julius Caesar
1. Julius Caesar Had One Son with Cleopatra.
While Julius Caesar and Cleopatra only had a romantic affair for a while, they never married. However, they did have one son together, who they named Ptolemy Caesar. While it was never fully proven, many people then and now believed that Julius Caesar was a father to, who many people called, little Caesar. He was born around 47 B.C. When little Caesar was around three years old, his father was murdered. Not too long after that, Ptolemy XIV, who was co-ruler with Cleopatra and her brother, was murdered. Many people believe that Cleopatra murdered him so that she could name her son as co-ruler.
2. Pirates Once kidnaped Julius Caesar.
During 75 B.C., a nearly 25-year-old Caesar decided to go to the Aegean island of Rhodes where he would study with Apollonius. However, not far off the western coast of the Asia Minor, pirates took over the ship Caesar was on. The pirates quickly captured Caesar and started to ask for a ransom. Caesar found out the amount of the ransom and became insulted, telling the pirates that he was worth more than that. Therefore, the pirates asked for a higher number. Once the amount of money was raised, they allowed Caesar his freedom. Years later, Caesar would establish a plan where he sent a number of ships to locate the pirates. Once they were located, they were executed for kidnapping Julius Caesar.
3. He is the Father of Leap Year.
Before Julius Caesar came into power, the Romans used a calendar based on the lunar cycle. By this calendar, there were 355 days in a year, which is 10 and a ¼ days shorter than the solar system. This means that the lunar year was shorter than the amount of time it took the sun to make its way around the earth. For Julius Caesar, and many others, this was confusing and would not do. Therefore, once he came into power, Caesar established the Julian calendar, which started in the year 45 B.C. This calendar followed the solar system as it had 365 days a year. However, Julius Caesar also took it a step farther and added one day every four years to make up for the ¼ day which is lost the rest of the years.
4. He was not born by Caesarian Section.
For centuries, people have believed that Caesar received his last name because he was born by caesarian section. While this procedure did exist during his time, it was considered to be too dangerous, therefore, only performed on mothers who were dying or already dead. Julius Caesar's mother lived until the year 54 B.C., which means that no one would have performed such a procedure on her. This is a shocking fact about Julius Caesar.
5. Julius Caesar Came from A Very Important Family.
From his ancestors to his parents and the relatives who lived for generations after his death, Julius Caesar's family is very important in history. Caesar's father was the governor of Asian, his sister married Gaius Marius, who became an important Roman political figure, and his mother's father was the council in the Roman Republic. On top of this, the famous several famous historical figures, such as Nero and Caligula, were relatives of Caesar.
6. He Married Three Times.
Julius Caesar's first wife, Cornelia, in 84 B.C. During the marriage, Cornelia's father tried to force the couple to get divorced, but it did not work. Cornelia would die in 69 B.C. from childbirth. Two years later, he married Pompia, who he divorced a few years later. He then married Calpurnia, in 59 B.C. They remained married until Caesar's death.
I hope that you enjoyed learning facts about Julius Caesar. For more information, visit historical people pages.