Do you want to know more about the life of John Wilkes Booth? If so, you have come to the right article. It will inform you of various facts about John Wilkes Booth so that you will have more insights about his life.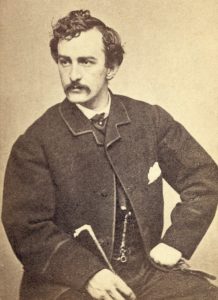 Who was John Wilkes Booth?
He was born on May 10, 1838, in Bel Air, Maryland. He was born into a family of actors, and his father and brother were very famous for their acting skills. Although John Wilkes Booth was great at acting, he was often overshadowed by his brother. John Wilkes Booth was selfish and emotionally unstable, and he had a hard time being in the shadow of his great brother, who was like Tom Cruise in the nineteenth century.
John did his debut in Baltimore in 1856. However, the debut did not go well, and he did not play the leading roles until three years later when he joined a Shakespearian society. Then, his acting skills began to develop further, and he began to play leading roles.
Interesting Facts about John Wilkes Booth
1. He was a spoiled child.
He skipped school regularly as a child. He had a limited education because he left school to become an actor when he was 14. As an actor, he did not work very hard, and there were times when he did not learn his script because he was too lazy. That was the main reason why his brother was considered way better actor. However, he had that same natural talent as his brother and was a mediocre actor. He gradually gained popularity because of the natural talent, but he could have become as famous as his brother. He had all the things that an actor can ask for: handsomeness, athletics, and charisma.
2. John Wilkes's victim was one of the most famous people to be murdered.
As you probably know, John Wilkes murdered President Abraham Lincoln. He had a hatred for Lincoln because he believed in slavery. So, how did he murdered Lincoln? John Wilkes got this information that Lincoln will be attending a comedy at the Ford theatre. Because he was an actor, he was familiar with the show, and he carefully planned the timing of when to kill President Lincoln. Then, he went to a theatre box that President Lincoln watched in and fired when the crowd was noisy. Then, he jumped out of the box and fled.
3. Lincoln was treated at William Petersen's house.
After he got shot, he was immediately transported to a house right next to the theatre. He didn't live long because he got shot at the back of the head. An interesting fact about this whole incident was that Lincoln laid diagonally across the bed. He was too tall, and there was not a bed that would fit him. So, the only alternative was to lay him diagonally. He struggled throughout the night and died the next morning.
4. He broke his leg.
After he killed Abraham Lincoln, he jumped the stage. It was a long jump, and he fractured his left leg as a result. However, he ran with his broken leg and escaped. You might ask, "How did he escape with a broken leg?" He probably did not feel any pain during his flight because of the adrenaline in his bloodstream. He eventually sought the help of Samuel A. Mudd, who treated his leg.
5. This was not his first murder attempt.
You might be surprised to know that John Wilkes was a very careful planner and persistent person. This is quite contrary to his attitude toward work, but because of his immense hatred toward Lincoln, he became persistent. This was not his first assassination attempt for Lincoln. He tried several times before, but something did not work out. However, he kept trying and achieved his goal of murdering Lincoln. This is probably one of the facts about John Wilkes that you did not know before.
6. He died for what he thought was good for the South.
He believed in slavery and hated those who wanted to abolish it. He believed that murdering Lincoln was good for the South, and he performed it. Was that a right thing to do? No. Did that bring a good result? No, as you will find out in the next fact!
7. The murder of Abraham Lincoln was very bad for the South.
Historians believed that Abraham Lincoln truly wanted to help the South. If he had lived on, he would have done beneficial programs for the South. However, when John Wilkes killed him, all the sympathy that North had towards the South disappeared. They became very harsh on the South, and the South had to go through a painful reconstruction period.
8. John Wilkes was arrested and died in 1865.
Eventually, he was arrested near St. Louis while on a theatre tour. He died on April 26, 1865, in Virginia.
I hope you gained something useful by reading John Wilkes Booth Facts! Please take a look at historical figure page for other historical people!