One of the biggest names to come out of the Industrial Revolution was James Watt. In fact, many inventions that we use today still see their influence from James Watt. This article will not only give you a little background information on this famous inventor, but it will also give you interesting facts about the life of James Watt.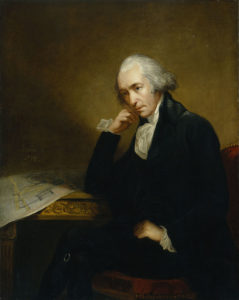 Who is James Watt?
James Watt was born on January 19, 1736, in Greenock, United Kingdom. He grew up to become not only an inventor but also a chemist and mechanical engineer. One of his biggest works was the improvement of Thomas Newcomen's 1712 Newcomen steam engine. In fact, it was this improvement which helped him make a name for himself as an inventor and mechanical engineer. For generations, Watt's family was of the elite and received a good education and James Watt did not ignore his own education. While he was mainly homeschooled by his mother, he studied several languages, along with the regular studies of mathematics, science, reading, and writing. When Watt's mother died when he was 18 years old and his father's health began to fail, Watt turned to traveling to continue to expand his education.
Interesting Facts About James Watt
1. First Patent
James Watt received his first patent in 1769 when he made improvements to the steam engine. While studying the properties of steam, Watt started to realize that the steam engine would be able to function better if the steam was condensed in a different container from the cylinder.
2. He Has a Unit of Measurement Named After Him.
If you have ever looked for a certain lightbulb, you will notice that they are often marked different watts. This unit of measurement, which is important to electrical and mechanical power, is named after James Watt.
3. He Received Many Honors.
On top of becoming one of the most important figures during the Industrial Revolution, James Watt received many honors during his lifetime. He was not only a member of the Royal Society of London but also a member of the Royal Society of Edinburgh. Furthermore, he was admitted into the French Academy of Sciences, becoming one of the eight foreign associates to be accepted.
4. Entrepreneur of Civil Engineering
Throughout his life, James Watt wore many hats. One of these hats was as a civil engineer. In fact, Watt is considered to be one of the earliest civil engineers. One of the biggest jobs he did as a civil engineer was to make notes about canal routes. On top of this, he also devoted a lot of his time to improve on other people's inventions, such as the steam engine.
5. Family Life
During his life, Watt married twice. His first wife was Margaret, and when he lost her he was devastated. He had two children with her and became a devoted husband and father. This personality trait followed him into his second marriage with Anne. The couple had two children, so Watt had four children total.
6. He Didn't Want Praise and Attention.
Watt did not become famous after his death, he became famous while he was still alive. While he joked around every now and then, Watt was actually a serious man who was not very social. He also did not like the praise and attention he received, especially after his improvement on the steam engine. He also didn't like being called "sir" and always stated he wanted a simple funeral and to be buried in a country church yard.
7. The Steam Engine Improvements Changed Watt's Life.
Prior to his work on the steam engine, Watt could escape from society if he wanted to. However, after he made improvements on the steam engine, his life changed drastically. Even though Watt did not invent to steam engine from scratch, his improvements became very significant during his time as they made the running of the steam engine much easier. After his improvements, Watt became a popular man, especially around his area. He also became a very rich man. While he grew up living in a financially stable home, he never saw great wealth until his improvements on the steam engine.
8. Many Important Inventions
The improvement on the steam engine was not Watt's only invention. He also developed the rotary engine. On top of this, Watt had tons of ideas that he did not work on himself as he loved to share his ideas with other people. Sometimes Watt even worked on inventions with other inventors.
I hope that you enjoyed reading about these facts about James Watt. If you want to learn more about other historical figures, visit historical people page.