Do you want to know more about the life of Isaac Newton? You have definitely learned about him from either science or history textbooks. However, there are probably some facts about Isaac Newton that you do not know. So, let's start!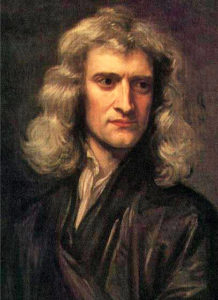 Who is Isaac Newton?
Isaac Newton was a mathematician, physicist, astronomer, theologian, and author. He was born on January 4, 1643, in Woolsthorpe Manor House, United Kingdom. Today, people know the name best due to the story of an apple falling on his head, which game him the scientific idea about gravity. Scientifically, Newton was one of the many scientists who were part of the scientific revolution. Not only did he come up with the concept of universal gravitation, but he also formulated the laws of motion.
Interesting Facts About Isaac Newton
1. An apple did not really fall on Newton's head.
The story of an apple falling on top of Newton's head and giving him the concept of gravity is actually not true. In reality, Newton was outside and he saw an apple fall off the tree. Being the physicist that he was, he started studying why this occurred and then came up with the concept of gravity.
2. Newton's mother had other plans for him.
Newton was never really a good student as a child. So, his mother never imagined he would grow up to become one of history's most remembered scientist. On top of this, Newton's biological father, who passed away a few months after he was born, was a farmer. Therefore, his mother wanted Newton to become a farmer, but Newton hated farming.
3. Newton hated criticism.
Newton was never extremely popular among the other scientists of his time, which meant that he was often the subject of their criticism. Newton hated receiving criticism so much that he became extremely isolated in 1679 and remained that way for the rest of his life.
4. Completed most of his work during the Black Plague.
Newton went to Cambridge during the 1660s, so he could study physics. During the years of 1665 and 1666, his community began dealing with the Black Plague, so the school closed. It was during this time where Newton made great progress on the properties of light, calculus, and planetary motion.
5. Suffered nervous breakdowns.
A couple times throughout Newton's adulthood, he had a couple nervous breakdowns. These occurred because he began to fear that his friends were conspiring against him.
6. Helped Britain recover from their financial crisis.
During the 17th century, about 10% of Great Britain's currency was forged. Newton helped Britain recover from their financial crisis due to all this forgery by recalling all the old currency and issuing new currency. From there, Newton kept a list of the people who were forging money and prosecuted them for their crime.
7. Newton had the most valuable tooth in the world.
This is a cool fact about Isaac Newton. In 1816, an auction was held and one of the items in the auction was a tooth which belonged to Isaac Newton. This tooth became the most expensive tooth in the world when it was auctioned off for $3,600. By today's currency, the person would have bought the tooth for $52,722.20.
8. Newton hated his stepfather.
Newton's mother remarried when he was about three years old. His grandfather took care of him because his stepfather did not want to take care of him. Because of this, Newton grew to hate his stepfather. In fact, he hated his stepfather so much that Newton threatened to burn his house down.
9. When Newton was born, he was a premature baby.
Newton was born between 11 to 15 weeks early. Therefore, he was premature and not expected to live very long. In fact, Newton was so small that his mother told people that as a newborn, he could fit into a quart-sized cup.
10. Newton was actually born on Christmas Day.
Even though sources say Newton was born on January 4, 1643, he was actually born about December 25, 1642. This is because the United Kingdom did not adopt the Gregorian calendar until 1752, about 90 years after Newton was born. Therefore, he was actually born about 11 days before what the Gregorian calendar shows.
11. Newton had his own idea of when the world would end.
Isaac Newton never believed that the world would end in 2012. In fact, according to Newton's research and calculation, he stated that the world would never end before 2060. However, he never really mentioned when he believed the world would end.
Did you enjoy this article on Isaac Newton facts? If so, learn more about other historical figures by going to historical figures page.