Do you want to know more about the life of George Washington? If so, you have come to the right article. It will inform you of various George Washington facts so that you will have more insights about his life. However, before we get into the facts, why don't you read a little background about George Washington.
Who is George Washington?
George Washington came into this world on February 22, 1732, in Wakefield, Colony of Virginia. His parents were Augustine and Mary Washington. He grew up in a wealthy family who owned slaves. Washington's father was a planter, justice of the peace, and the county sheriff. When Washington was nearing his teenage years, his father died. Washington then inherited ten slaves along with the Ferry Farm. Washington would grow up to not only become one of the most famous historical men in American history, but also a Founding Father and the first President of the United States of America.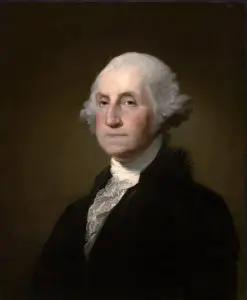 Interesting George Washington Facts
1. He helped save the American Revolution
One of the most famous paintings of George Washington is when he was crossing the Delaware River on December 25, 1776. After crossing the river, George Washington and his troops won three major battles. This helped turn the American Revolution War around for the United States and took them a step closer to winning the American Revolutionary War.
2. George Washington was first to sign the American Constitution.
In 1787, he was one of the men appointed to head the Constitutional Convention. Washington went to Philadelphia for four months to attend the meetings of the convention. While he rarely spoke in the meetings, he was given the role of president of the Constitutional Convention. Therefore, when the Constitution was completed, it was George Washington who became the first to put his signature on the American Constitution. Isn't that a cool George Washington fact?
3. He never abused the power he was given.
In history, George Washington is probably best known for the many powerful roles he held during his lifetime. But no matter how much power Washington was given, he never abused his power to get what he wanted. In fact, when Washington became the first President of the United States of America, he only served two terms when he could have served the rest of his life. He felt that it was important that dictatorship should not happen because Founding Fathers fought for American independence, not dictatorship.
4. He was an agricultural pioneer.
Throughout his life, Washington was interested in farming and often tried new machinery. Along with this, Washington became an agricultural innovator when he changed his crops from tobacco to wheat during the 1760s. In order to maintain the best crops he could, Washington often tried different crops, fertilizers, livestock breeding, and tools.
5. He was a promoter for the westward expansion.
Washington lived in a time where the white settlers mainly lived on the east coast. While the major westward expansion happened after Washington's death in 1799, he was a promoter for people to travel west to see what other lands there was. Overall, Washington believed that going west would not only keep America together but also enrich the country.
6. George Washington freed all his slaves.
Like many people during his time, he owned slaves. To Washington, it was a way of life. He grew up in a family that was slave-owners, and he remained a slave-owner all his life. However, unlike many other people during Washington's time, he wrote in his will that upon his death, all the slaves of Mount Vernon were to become officially free. He was the only president to do such a thing, and his wife, Martha, followed through with his request and freed all of their slaves after the death of Washington.
7. Washington loved to party.
While Washington followed the code of being an elite gentleman as well as he could, he also enjoyed entertainment. He loved to go to balls and enjoyed the company of other people, especially women. Washington also loved to see other forms of entertainment, such as going to the theater.
8. He was mainly self-educated.
While Washington received a few years of formal education, he was like many other leaders during his time and mainly self-educated. Throughout his life, Washington continued to teach himself, so he could be a better farmer, soldier, and political figure. He not only expanded his knowledge by reading books but also by conversing with many other people, in Europe and the United States.
I hope that you enjoyed reading various George Washington facts. For interesting facts about other figures, visit historical people page.