Would you like to learn some interesting facts about Genghis Khan? This incredible Mongolian warrior was responsible for founding the Mongol Empire, one of the biggest empires of the world's history, only surpassed in surface extension by the British Empire. Let's start revealing the details of his life to discover how he managed to do it!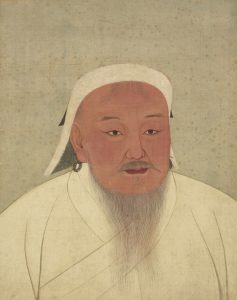 Who was Genghis Khan?
Born in 1227, Genghis Khan led the building of the Mongol Empire. His father was the chief of a Mongol confederation, so he was in touch with the functioning of tribes and battles since he was little. He had four siblings, three brothers and a sister, and two half-brothers, as his mother was the second wife of his father.
When he was young, there were several Mongol tribes which were often enemies and had constant conflicts. Genghis Khan knew how powerful they could be if they were reunited, so he started establishing strategic alliances and recruiting men. After he unified the tribes, he started to expand his territory and conquered different dynasties and empires. By the time he died, Genghis Khan had conquered millions of kilometers and had killed millions of people during this process. His sons were in charge of continuing the expansion of an empire that lasted for almost two centuries.
Interesting Facts about Genghis Khan
1. His actual name was Temüjin.
By the year 1206, Genghis Khan had successfully reunited the Mongol tribes, which became The Mongols. This is when he got the name for which he is known, "Genghis Khan". The title "Khan" is given to military rulers, and his full name meant "ruler of all". He was also given the title of "Khagan" after he died, which is an equivalent of "emperor". Before this, his given name was Temüjin.
2. His childhood was tough.
Although he was the son of the chief of a Mongol tribe, he went through difficult times when he was young. As it was usual, his family had arranged a marriage for him. He wasn't able to get married until he was 12, but his father sent him with the family of his future wife when he was nine.
While Genghis was there, his father was betrayed and poisoned. Genghis went home as soon as he knew about this, but once he got there, his tribe turned its back on him and his family. They had to survive alone in the woods. During these times, he killed one of his half-brothers because of a fight over food. He was also enslaved by a tribe, but he was able to escape.
3. Genghis Khan rescued his wife after being captured.
Even if he had to live without his tribe for a few years, he ended up marrying the same girl with whom the arrangement had been made by his father. He married Börte when he was 16. This was mainly a strategic decision so he could form an alliance.
She belonged to the Onggirat tribe, and after marrying Genghis Khan, she was kidnapped by another tribe, the Merkits. Fortunately, Genghis saved her with the help of two other men.
4. He had a lot of children… A lot!
Genghis Khan and his wife Bortë had four children: Jochi, Tolui, Ögedei, and Chagatai. They were his legitimate and favorite sons. However, it was common that men had multiple romantic companions, and he wasn't the exception. It is estimated that he was with almost 500 women, and he had children with many of them.
A recent study showed that there could be 16 million men who are genetic descendants of Genghis Khan, as his sons were also like him. One of them had 40 children with his wives and more children with other women.
5. Although he was ruthless towards his enemies, he believed in meritocracy and religion.
The Mongols won the majority of their battles and killed millions of people. Genghis Khan didn't hesitate when he had to kill an enemy or someone that had betrayed him. However, he believed in the value of people according to their skills, regardless of their past or social status. One of the most famous examples happened after a battle when his horse was wounded by an arrow. After his army captured their enemies, he asked for the person who had hit him and made him a soldier of his army.
He also allowed people to have the religion they wanted in the territories that were added to the Mongol Empire. It is known that he had debates with Buddhists, Christian missionaries and Muslims to learn from them.
6. It is unknown how Genghis Khan died.
Genghis Khan died in 1227. Nobody knows for sure how he died, and there are different versions of hat could happen. These stories go from dying because of an injury he had after falling from a horse to being stabbed by a Xia princess.
7. The Mongol Empire was the second largest empire in the world's history.
After reuniting Mongol tribes, Genghis Khan conquered the territories of the Xia and Jin dynasties of China, and the ones of the Khwarazmian Empire, Georgia, Crimea, and Volga Bulgaria. His sons continued the expansion of the Mongol Empire, which was the second largest Empire in history, with 24 million square kilometers.
I hope that you enjoyed learning about Genghis Khan facts. If you want to know about historical figures, visit historical people page.