Welcome to this article about Frederick Douglass. Douglass was a prominent writer, social reformer and activist who escaped from slavery. He was central to the anti-slavery movement as well as the 1960s civil rights movement in the United States. Douglass continued to promote and advocate for equal rights of African American citizens up until his death. Join us as we go through the life of this eminent individual.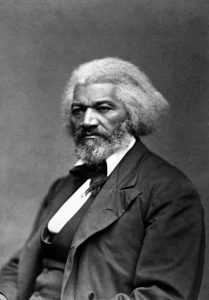 Interesting Facts about Frederick Douglass
1. He was born into slavery and lost his mother as a child.
Douglass was born Frederick Augustus Washington Bailey around 1818 in Talbot County, Maryland. Although people often think that he was completely African American, he had mixed blood. His mother was African American, and his dad was white. He lived in the home of the owners of the plantation where the slaves worked. Unfortunately, when Douglass was only 10 years of age, his mother died.
2. Despite the ban on teaching slaves, he was taught how to read and write.
When Douglass was 12, the wife of his Baltimore Slaveholder (Hugh Auld), Sophia, taught him how to read and write. She was a kind-hearted woman according to Douglass but she was later forbidden from continuing to teach Douglass. However, he secretly continued to teach himself by interacting with other white children. He read newspapers very intently, and he discovered the field of political ideologies which shaped his opposition towards the mistreatment and slavery that African Americans faced. He spread his education to other slaves and taught them how to read, using the New Testament.
3. He escaped from slavery.
Douglass met Anna Murray whom he would fall in love with and marry. She was a free black woman and her liberty inspired him deeply. Douglass made several attempts to escape from slavery, but he failed during the first few times. Finally, in 1838, with the help of Anna, he escaped the Covey farm and traveled through Delaware till he reached the house of abolitionist David Ruggles in New York City.
4. Douglass transformed from a slave to an abolitionist leader.
Frederick and Anna eventually moved to New Bedford and then Lynn in Massachusetts. Here, they would meet the free couple, Nathan and Mary Johnson. They suggested to them to have a new last name "Douglass," which was the names of the characters of  Sir Walter' Scott's poem "The Lady of the Lake". Douglass began to attend meetings under the abolitionist movement. He would work with William Lloyd Garrison who encouraged Douglass to become one of the leaders of the abolition movement.
5. He published his autobiographies detailing his former life as a slave.
Douglass toured the United States as part of the American Anti-Slavery Society's 'Hundred Conventions' project. During this tour, he was assaulted several times, and even his arm was broken to a point where full use was never regained. Douglass published several books, among which was his autobiography, 'Narrative of the life of Frederick Douglass, an American Slave'. It became incredibly popular, being printed around 11,000 times and circulating widely across the United States.
6. Frederick Douglass traveled to Ireland and Great Britain which further inspired his idea of freedom.
When traveling to Great Britain and Ireland, he noticed the relative liberty he would have as a person of color compared to the same in the United States. Later, he met Irish nationalist, Daniel O' Connell, who became a source of inspiration for Douglass. In England, Douglass gave one of his most famous speeches, The London Reception Speech; he spoke of the irony where the United States "boasted of love, justice, and purity" when it denied freedom and the law of the right to marry between people of color.
7. He advocated for women's rights in addition to his activism.
Douglass demonstrated his interest and advocacy for feminism. He was the only African American to attend the Seneca Falls Convention of 1848, which was the first women's rights convention in the United States. He would cover the topic of women's rights in the North Star newsletter as well.
8. The Civil War period saw great reforms that Frederick Douglass helped to create.
Douglass had a conflict with President Abraham Lincoln; although the Emancipation Act (which ended the practice of slavery) was passed, Lincoln failed to provide ex-slaves the right to vote. The two would later reconcile. Eventually, the 13th, 14th and 15th Amendments were passed, which outlawed slavery and provided specific equal rights to all citizens.
9. He was elected as the United States Minister Resident to Haiti.
Douglass became the first African American to hold a position in the high office as well as become nominated for Vice President. During his later years, he continued working for African-American and Women's rights. He further remained a dedicated speaker and writer up until his passing away in 1895. With the massive changes and social reforms Douglass helped to initiate, it comes as no surprise that his work is an inspiration for people across the world who seek more to their life in terms of equality and representation.
Frederick Douglass had a massive impact on the abolition movement. I hope that you enjoyed getting to know some Frederick Douglass facts. For more information, visit historical people page.