Welcome to this article about one of the most iconic Presidents of the United States: Franklin D. Roosevelt! Serving as the 32nd President of the United States, he is known for being the longest-serving President for the US. Further to this, he is credited for leading the nation through two of the largest crises in its history: The Great Depression and World War II.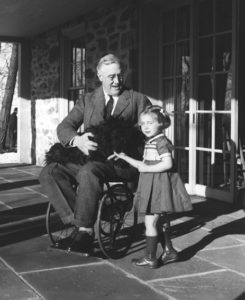 Interesting Facts about Franklin D. Roosevelt
1. Roosevelt grew up in a wealthy family.
Franklin Delano Roosevelt was born on the 30th of January 1882 in Hyde Park, New York. His parents were James and Sara Roosevelt. They came from wealthy families so naturally Roosevelt himself grew up surrounded by wealth. He was educated privately till he was 14 after which he studied at Groton Preparatory School. Later, he was educated at Harvard University during which time, his fifth cousin Theodore Roosevelt became President. It was also during university where Roosevelt met his future wife, Eleanor Roosevelt.
2. He initially worked as a legal clerk.
Roosevelt went onto studying at Columbia Law School but he showed poor interest in his studies. Upon graduating, he worked as a clerk in a law firm but continued to feel indifference towards the legal world. However, he was motivated by President Theodore Roosevelt, who was quick to become his role model. As a result, Roosevelt began to look for opportunities in politics.
3. His political career began after he was elected to the Senate.
When an opportunity came in 1910 where Democratic party leaders in New York recommended he join the state senate, Roosevelt decided to take this chance. After a rigorous campaign, he won the election and was therefore elected to the Senate. He supported the campaign for Presidential candidate Woodrow Wilson and later, for his work on behalf of Wilson, he was appointed as the Assistant Secretary to the Navy in 1913. When World War I broke out, Roosevelt proposed that the military should be highly prepared.
4. Franklin D. Roosevelt had affairs with several women which damaged his marriage.
Roosevelt had several extra-marital relationships, especially with his wife, Eleanor's, social secretary Lucy Mercer. Eleanor offered him the choice of a divorce but he declined on the grounds that he promised to never see Mercer (which would ultimately be broken in the 1940s). Nevertheless, the damage to the Roosevelts' relationship was harsh and their marriage became a political partnership. Even during his declining health in 1942, Eleanor refused to come and live with him after he requested her care.
5. He became paralyzed due to polio during a holiday.
Roosevelt's life was changed for the worse when he was afflicted by poliomyelitis while on vacation in Canada. He fell gravely ill, suffering from partial paralysis as well as the usual symptoms. It was thought that he showed more signs of Guillain-Barre Syndrome. This nearly caused a derailing of his entire political career but most of his family supported his determination to return to politics. He worked hard on regaining his function and always took precaution to never use his wheelchair in public. Unfortunately, his disability became more and more visible with his political image.
6. He served as Governor before moving onto Presidency.
Roosevelt supported the former governor of New York, Alfred E. Smith for the presidential campaign. In return, Smith urged Roosevelt to run for governor of New York in 1928, which he ultimately accepted. During the 1932 presidential elections, Roosevelt campaigned and ultimately won by a landslide victory.
7. Franklin D. Roosevelt implemented the New Deal.
Prior to his entry into the office, the country had descended into the Great Depression. As a result, the New Deal was proposed, where Roosevelt confirmed that this program would pave the road to economic recovery. He further promised a balanced budget, the development of electricity as a power source as well as aid to the farmers. Following a series of complex steps and the passing of two 'New Deals', the economy began to rise from its low point and by 1937, it had recovered significantly.
8. Roosevelt guided the country through WWII.
After being elected for his third term in 1940, World War II had begun in Europe and Roosevelt was determined to avoid the US from bearing the brunt. A turning point occurred when Pearl Harbour was attacked by the Japanese, following which Roosevelt declared war on Japan. This led to the formation of the 'Big Three' consisting of Roosevelt, Sir Winston Churchill, and Joseph Stalin during the final stages of the war. These relations were crucial in ending the war.
9. He became the longest serving President of the United States.
In addition to his constant illness, Roosevelt also suffered from arteriosclerosis. Nevertheless, he campaigned and won for his fourth term in the Presidential office in 1944. However, his term lasted for a short period; on April 12th 1945, he passed away in his residence at Georgia, due to a cerebral hemorrhage.
10. President F. D. Roosevelt had an accomplished career.
He was regarded as a savior of the nation, particularly due to his guidance of the country through the Great Depression and the Second World War. Therefore, it came as no surprise when his death was greatly mourned by the people; They had a sense of emotional attachment to the man who had given them so much protection and hopes during times of grave need. Decades later, his legacy is still long-lasting as he became one of the greatest American presidents to ever live.
I hope that enjoyed learning facts about Franklin D. Roosevelt. For more information, visit historical people page.