Welcome to the article: Interesting Facts of Ernest Shackleton, where adventures, exploration of unknown lands, and stories of survivorship are mixed! So, before we talk about Shackleton's adventures, let's start with his background.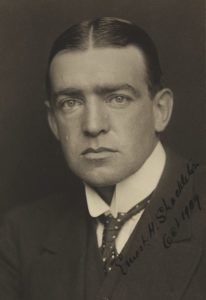 Who is Ernest Shackleton?
Although he was overshadowed by the achievements of his colleagues after his death, the explorer Sir Ernest Henry Shackleton was one of the most important figures of the Heroic Age of Antarctic Exploration. This period took place after the First World War. In this period of time, 17 expeditions to the Antarctic were made in order to explore the land and do scientific research. Shackleton was in charge of three of these expeditions. He was born in Ireland, in 1874, but his family moved to England when he was ten. There, he discovered his passion for exploring when he became a merchant navy officer.
Interesting Facts about Ernest Shackleton
1. Ernest Shackleton was part of a big family.
Ireland has always been known for having large families, and even today, they are the country with the third highest fertility rate in Europe. The Anglo-Irish family of Shackleton was not the exception. His parents had ten children: 8 daughters and only two sons. Shackleton was the second one.
Another interesting fact about Ernest Shackleton is that his brother was one of the main suspects during the investigation of the Irish Crown Jewels' theft, in 1907.
2. Before leading his own expeditions, he was part of the Discovery Expedition.
In 1901, the Discovery Expedition started. Its objective was exploring the Antarctic for geographical and scientific purposes. Along with Robert Falcon Scott, the leader of the expedition, and the scientist Edward Wilson, he went on a journey to try to reach the highest southern latitude. Even if they didn't reach the South Pole, they broke the record to reach the farthest south latitude at that time, which was 82° 17'.
They didn't go beyond that point because all their dogs died after consuming contaminated food. When they were going back, Shackleton suffered from several health problems, so he was sent back home before the expedition ended.
3. He tried to be the first person to conquer the South Pole by organizing his own expedition.
After his participation in the Discovery Expedition, Shackleton wanted to go even further and conquer both the South Pole and the Magnetic South Pole. That's why he led the Nimrod Expedition, in 1908. He didn't achieve his main goal, but important discoveries were made.
Along with three colleagues, he broke the previous record of the farthest south when they reached a point which was only 108 km from the South Pole. They also were the first party that explored the South Polar Plateau, and the first ones that climbed the Mount Erebus, an active volcano.
4. He tried to be a successful businessman but failed.
In between journey and journey, Shackleton was really popular. He was honored by different organizations, like the Royal Geographical Society. He also made several public appearances and published the accounts of his journeys.
To take advantage of his popularity, he invested in different companies, but none of them were successful. This is why he was heavily indebted when he died.
5. He went through a harsh survival experience during his Imperial Trans-Antarctic Expedition.
Once he heard that someone else had conquered the South Pole, in 1911, he changed his plans and decided to start the Imperial Trans-Antartic Expedition. Its objective was going through the Antarctic continent on foot, in which a group of six people would complete a journey of 2,900 km.
The expedition started in 1914, but the ship Endurance got stuck in an ice floe and finally sunk after months of struggling in the sea. The crew spent months on a floating ice pack, and then they tried to reach South Georgia on a rowboat, after spending a month on a deserted island. However, they were obligated to abandon the boat. After two long years, they were rescued when Shackleton arrived at a whaling station and sent help to save the rest of the crew.
The crossing the continent of Antartica is what Ernest Shakleton is best known for.
6. He had three children.
Although he had a busy schedule, Shackleton found the time to have a family. His wife was Emily Dorman, and they had three children. The youngest, Edward Shackleton became an explorer and a politician.
7. He died in his last expedition.
In 1921, he led the Shackleton–Rowett Expedition. Its objectives were not completely clear, but it is known that some of them were circumnavigating Antarctica and exploring some sub-Antarctic islands, which were apparently lost.
However, in 1922, only four months after the expedition started, Shackleton had a heart attack and died. It is known that he had presented health problems during the journey, but he refused to get medical assistance.
8. There's an impact crater called Shackleton.
While he was alive, Shackleton received many decorations, such as the British decoration of Knight Bachelor.  After he died, his legacy spread all over the world, and even out of it! In 1994, an impact crater was named after him. It is located in the Moon.
I hope that you learned a lot about reading these Ernest Shackleton facts! If you want to know about other historical figures, visit historical people page.