Welcome to this article about Eleanor Roosevelt. She is a prominent figure in history, notably due to her position as the First Lady of the United States during the terms of President Franklin D. Roosevelt. In addition to this, she is famous for being a strong advocate for human and women's rights, as well as being a delegate to the General Assembly of the United Nations. Join us as we take a look at the life of this extraordinary woman!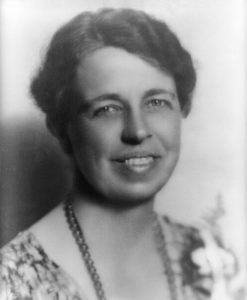 Interesting Facts about Eleanor Roosevelt
1. Eleanor was raised by her single grandmother.
Anna Eleanor Roosevelt was born on October 11th 1884 in Manhattan, New York. Her parents were Elliott Roosevelt and Anna Rebecca Hall, who were wealthy socialites, and Eleanor was raised with luxury and privilege in her childhood. She was the niece of President Theodore Roosevelt via her father's side. Eleanor had two younger brothers and a half-brother from her father. Unfortunately, she lost her mother to diphtheria in 1892, and her father the following year. She was raised by her grandmother, Mary Livingston Ludlow, thereafter, but the childhood loss of her parents would plague her with depression for the rest of her life.
2. She completed her education in England.
Eleanor completed her primary studies privately before she was sent to Allenswood Academy in England to complete the rest of her education. The headmistress took special interest in Eleanor and developed her skills and personality to the maximum. At the age of 17, Eleanor finished her studies and moved back to the United States. She was presented at the Debutante Ball, as was the custom for most daughters of distinguished socialites.
3. Eleanor had a troubled marriage with her fifth cousin, Franklin D. Roosevelt.
Franklin and Eleanor met in 1902 on a train to New York. They began their courtship and eventually became engaged the following year. Initially, Franklin's mother was against the match but the marriage proceeded, with the wedding in 1905. Eleanor and Franklin's mother would go onto having a very tense relationship from this point. Franklin and Eleanor had 6 children.
In 1918, Eleanor discovered that Franklin was having an affair with her secretary, Lucy Mercer. Although she requested a divorce, Franklin vowed not to see Mercer and the couple remained married. However, the damage had been done, and their marriage became more of a political alliance.
4. Eleanor shifted her focus towards social work and public service.
After the discovery of the affair, Eleanor chose to live more independently of her husband and began to live separately as well. Although she remained his political supporter and mentor, she maintained no personal relationship with Franklin. She began several individual projects, such as being part of a women-run furniture enterprise. She began to promote women's engagement in politics and took leadership positions in organisations such as the Women's Trade Union League and the League of Women Voters. Eleanor was a famous figure in the suffrage movement. She further led the Women's Division of the Democratic National Committee.
5. She used her position as First Lady to progress with many goals for equality.
At the White House, Eleanor occupied herself heavily with a hectic schedule, where she wrote countless articles in the newspapers as well as running a column in the Woman's Home Companion magazine. With the money that she earned, she donated the bulk of it to charity programmes. She further wrote and published several books and during her spare time, she would travel and deliver speeches on human rights and equality.
6. Eleanor pushed President Roosevelt to formulate several positive reforms.
The impact that Eleanor had on her husband while he sat in the Oval Office was revolutionary, to say the least. She advocated for him to appoint more women to the government. This led to Frances Perkins being elected as the first lady to lead the Department of Labour. Eleanor campaigned for racial justice, particularly for African American rights. She even resigned from her position in the Daughters of the American Revolution after they rejected African American singer Marion Anderson who was to perform for their show. Eleanor encouraged greater participation for women of all races so they become involved with the male-dominant Civilian Conservation Corps.
7. Eleanor continued her work beyond her husband's death.
Following President Roosevelt's demise in 1945, Eleanor continued to work for the public. She was appointed as a delegate to the United Nations General Assembly in 1945, a position in which she worked for more than a decade. In 1946, she became the first chairperson of the United Nations Human Rights Commission. One of her greatest achievements was when she helped to draft the 'Universal Declaration of Human Rights' in 1948 which she called 'the international Magna Carta of Mankind'. Eleanor continued to advocate for equal rights, and strongly pushed for the equal pay act.
Eleanor was diagnosed with tuberculosis in the bone marrow, and eventually died of heart failure on November 7th 1962 at 78 years of age. The nation was stricken with grief and she was interred alongside her husband at their family home, Springwood. Eleanor Roosevelt accomplished so many things in her life, and her legacy is one for the ages. She was a nominee for a Nobel Peace Prize and the worldwide respect and gratitude towards her remains strong to this very day. After all, it was during her funeral where American diplomat Adlai Stevenson commented 'What other single human being has touched and transformed the lives of so many?'
I hope that you enjoyed learning about Eleanor Roosevelt facts. For more information about other historical figures, visit historical people facts.