Edward Jenner was one of the world's most famous physicians and scientists.  He is globally recognized as the pioneer of the vaccination against the smallpox disease, and is further considered as 'the father of immunology'. Welcome to this article where we will be discussing the life of this iconic person whose work continues to save lives to this very day!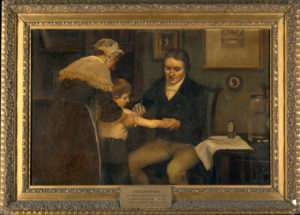 Interesting Facts about Edward Jenner
1. He was orphaned at a young age.
Edward Anthony Jenner was born on the 17th of May, 1749, in Berkeley, Gloucestershire. His parents were Rev. Stephen Jenner and Sarah Jenner and he was the eighth of nine children. Unfortunately, both his parents passed away in 1754, and Jenner was raised by the rest of his siblings.
2. He was acquainted with medicine at an early stage.
During school, Jenner was variolated to counter any smallpox occurrences. Typically, this only meant that the patient would develop smallpox at a less severe state than if acquiring the disease naturally. Following this, at the age of 14, Jenner served as an apprentice to a surgeon which is where he first developed his interests in surgery and healthcare.
3. Edward Jenner apprenticed under a world-renowned surgeon.
When he was 21, Jenner continued as an apprentice under the famous surgeon, John Hunter, at St. George's Hospital in London. Hunter was one of the most distinguished scientists of his day and was an advocate of thorough scientific study in medicine. Jenner and Hunter remained close friends right up until Hunter's passing away.  He earned his MD from the University of St. Andrews. By 1773, Jenner had completed his studies and moved back to his native home in Gloucestershire to become a prominent family physician and surgeon.
4. In addition to medicine, he had an aptitude for zoology as well.
Jenner was known for writing a paper that corrected a specific misunderstanding of the behavior of the cuckoo bird. It was previously believed that the adult cuckoo pushes the eggs of the host out of the nest. But Jenner corrected this, saying that the newly hatched cuckoo chick had eradicated its competition, using a depression on its back (which was ultimately proven by photography in the 20th century). These findings resulted in Jenner being elected as a Fellow of the Royal Society.
5. Edward Jenner began his study into vaccinations with the cowpox vaccine.
Prior to Jenner's work, it was considered that former infection with cowpox caused a patient to be immune to smallpox. Jenner hypothesized that it was the pus in the blisters (of milkmaids who were immune to smallpox) which actually protected the individual from the smallpox disease. He chose to test this hypothesis by inoculating an 8-year-old boy, James Phipps, with cowpox. Later, he administered Phipps with the variolous material (that was used for variolation), but the boy showed no signs of infection.
6. Edward Jenner continued to face several restrictions when publishing his work.
His work into the cowpox disease paved the way for Jenner to verify that smallpox could be prevented by vaccination. However, this was not accepted immediately. This was primarily due to difficulties in getting the cowpox matter and contamination of the products. In addition to this, people feared the penalties of being treated with anything related cows due to opposition from the church on religious grounds. Eventually, the vaccination protocol was accepted. In 1840, variolation was banned and replaced with free smallpox vaccination.
7. His later years were dedicated to science.
Jenner concluded his medical practice and continued to his study in vaccinations. Due to his work, he was awarded several memberships such as those at the American Academy of Arts and Sciences and the Royal Swedish Academy of Sciences. He eventually became president of the Jennerian Society in 1803 that was committed to promoting vaccination and eradicating smallpox. In 1821, he was appointed as the Mayor and Justice of Peace of Berkeley as well as the Chief Physician to King George IV. Amidst all these commitments, he investigated natural history and zoology as well. Jenner eventually passed away on the 26th of January, 1823, presumably due to a stroke. As his wife, Catherine, died of tuberculosis in 1815, he was only survived by his son and daughter.
8. Edward Jenner's legacy is one of great significance.
It was only during the late 20th century when the WHO declared Smallpox as an eradicated disease, but this path was mostly paved due to Jenner's hard work. His studies of vaccines formulated the groundwork for immunology and its related discoveries in the present day as well. It is only due to Edward Jenner that vaccinations help to prevent an estimated 2-3 million deaths every year.
I hope that these facts about Edward Jenner were useful to you. For information about other historical figures, visit historical people page.