Do you want to know more about the life of Cleopatra? If so, you have come to the right article. This article will inform you of various facts about Cleopatra so that you will have more insights about her life. However, before we get into the facts, why don't you read a little background about Cleopatra.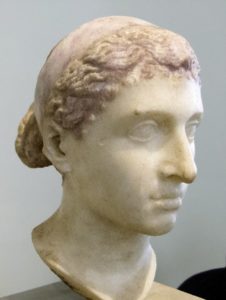 Who Is Cleopatra?
Cleopatra VII Philopator was born in 69 B.C. She would grow up to become the last active ruler of Egypt's Ptolemaic Kingdom. On top of being a ruler, Cleopatra was also a medical author, naval commander, linguist, and a diplomat. Because she was a ruler, Cleopatra was also a descendant of Ptolemy I Soter, the founder of the Ptolemaic Kingdom. Her father, Ptolemy XII, was exiled to Rome when Cleopatra was a child. However, in 55 B.C. Ptolemy XII, Cleopatra, and members of the Roman military returned to Rome. After a fierce battle, Ptolemy XII claimed the throne to Egypt. After he passed away in 51 B.C., Cleopatra became ruler of Egypt.
Interesting Facts About Cleopatra
1. She Was The Product Of Incest
While this statement often makes us feel uneasy today, it was completely normal during Cleopatra's life. In fact, Cleopatra's ancestors had been marrying their own family for generations. Part of the Ptolemaic Kingdom's rule was to keep the bloodline pure and the only way to do this, they believed, was to marry each other. Therefore, Cleopatra's parents were brother and sister and she went on to marry both her brothers.
2. She Believed She Was A Living Goddess
Cleopatra believed that she was a living goddess, one of the best and most beautiful people in the world. While her beauty was not her best asset, she did have many things to be grateful for. However, she did not often get what she wanted because of her beauty and the fact she was royalty. Cleopatra simply knew how to handle people and situations, so she could get what she wanted. This feature of her personality, along with being born in the royal line, made her believe she was a goddess.
3. Cleopatra Was Not An Egyptian
Even though Cleopatra was an Egyptian Pharaoh, she was not actually an Egyptian. She was born in Egypt, however, her ancestor and founder of the Ptolemaic Kingdom, was from Greece. Ptolemy I Soter took over as an Egyptian ruler after Alexander the Great's death in 323 B.C. And because Cleopatra's ancestors generally married into the family, most of her bloodline was Greek. However, this did not keep Cleopatra from adapting Egyptian customs.
4. No One Is Sure How Cleopatra Killed Herself
Anthony and Cleopatra both killed themselves in 30 B.C. While we know that Anthony stabbed himself, it was believed that Cleopatra killed herself by getting bit by a poisonous cobra or another type of snake. However, historians have debated this topic for centuries as some feel that she did not really die from a snake bite. On top of this, it is believed that Cleopatra kept some rare poison hidden. This has led some people to believe that she drank this poison, which killed her.
5. She formed Her Own Drinking Club With Mark Anthony
Cleopatra and Mark Anthony have one of the most famous love affairs in history. The relationship started in 41 B.C. because Cleopatra needed Anthony to protect her crown and maintain Egyptian society while Anthony needed her for the riches and resources of Egypt. However, their needs for each other grew into a romantic relationship. During their first year together, the two formed a drinking club called the Inimitable Livers. This group would not only drink but they would also eat fancy feasts and play games. It is believed that one of the couple favorite games to play was walking around the streets to play pranks on the residents.
6. She Helped Murder Three Of Her Own Siblings
While this thought might seem horrible to most of us, it was normal throughout the Ptolemy Kingdom. Her husband Ptolemy XIII was also her older brother. When Cleopatra wanted the throne for herself, he kicked her out of Egypt. She came back with the help of Julius Caesar and while fighting in a war against her brother for the crown, helped drown him in the Nile River. Not too long after that, she had her younger brother, Ptolemy XIV, murdered in order to make her son co-ruler. After this, Cleopatra had a hand in killing her sister, Arsinoe, as she felt that Arsinoe was trying to take the thrown.
I hope you learned much from reading this article about Cleopatra facts. If you want to learn more about historical figures, visit historical people page.