Do you want to know more about Charles Darwin? If so, you have come to the right article! Before we get into some facts about Charles Darwin, let's take a little look at his background.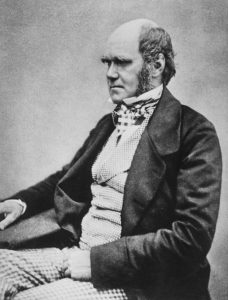 Who is Charles Darwin?
Charles Darwin was born on February 12, 1809, in Shrewsbury England. He grew up to be one of the most well-known evolutionary biologists not only of his time but in history. Want to know more about someone who grew up to be such an important figure in history? Then continue reading to check out this article!
Interesting Facts about Charles Darwin
1. Charles Darwin and Abraham Lincoln were born on the same day.
Not only does Charles Darwin share a birthday with Abraham Lincoln, the 16th President of the United States of America who helped end slavery, but Darwin was born on the exact same day and year. However, Charles Darwin was not born in a log cabin in America, he was born in a lavish Georgian estate which overlooked the River Severn, located in Shrewsbury, England.
2. He wanted to be a doctor but could not stand the sight of blood.
When Darwin first started college, he went to Edinburgh University with the dreams of becoming a doctor like his father. However, Darwin quickly learned that he could not fulfill this dream because he could not stand the sight of blood. Therefore, he went on to study divinity and became a rural cleric.
3. He suffered because of a chronic illness.
Later in his life, Darwin would travel around the world. After one of his voyages, Darwin returned home and began to feel ill. He would feel his heart palpitate and became nauseated. He suffered from headaches, exhaustion, and eczema. The symptoms followed Darwin through the rest of his life, but no one knows what he suffered from. Some people speculate that Darwin contracted a disease called Chagas, which is a parasitic illness that causes cardiac damage. This would have led to Darwin's death.
4. Charles Darwin had a mountain named after him as a birthday present.
When Darwin turned 25 years old, Captain FitzRoy decided to give Darwin a birthday present by naming a mountain, Mount Darwin. Mount Darwin is located in Tierra del Fuego and is the area's highest peak.
5. Before he got married, he made a pro and con list.
In 1839, Charles Darwin would marry his first cousin, Emma Wedgwood. However, before they two would tie the knot, Darwin made a list of reasons why he should or should not get married. This list was arraigned in two columns with one column as the "marry" and the other titled "not marry." Under the marry column, Darwin stated children, someone to take care of the house, and constant companion. Under the "not marry" column, Darwin wrote loss of time, conversations at clubs with clever men, and able to wherever he wanted.
6. He ate exotic animals.
Along with studying exotic animals from around the world, Darwin would also eat them. While he was studying at Cambridge University, Darwin started a Glutton club, where the members of the club would eat birds such as an owl and hawk. They would also eat other exotic animals that were not often found on the plates of humans.
7. After Charles Darwin established his theory on evolution, he waited twenty years before publishing it.
After Darwin completed his research during his five-year voyage around the world, he went home and established his scientific theory, which is now known as the theory of evolution. However, he did not announce his new theory to the world until 1858 because he was concerned about the public's response. The following year, in 1859, Darwin would finally publish is work, The Origin of Species by Means of Natural Selection.
8. He did not say "survival of the fittest."
Even though Charles Darwin is often credited with creating the phrase, "survival of the fittest," it was not Darwin. This phrase was first stated by Herbert Spencer, an English philosopher, in 1864.
9. The 10-pound note features Charles Darwin.
The British 10-pound note has featured a portrait of Charles Darwin since 2000. The note also includes an image of the HMS Beagle, which Darwin took on his voyage around the world, flora, and fauna that Darwin would have seen on his travels, and a magnifying lens.
10. Charles Darwin is buried inside the Westminster Abbey.
Charles Darwin died on April 19, 1882. Upon his death, his family wanted to bury him in the village, but his friends and colleagues would not hear of it as they believed Darwin deserved greater honor than that. Therefore, the Dean of Westminster allowed Darwin to be buried inside the Westminster Abbey in London.
By reading this article on Charles Darwin facts, I hope that you have enjoyed learning more about this interesting character. If you want to learn more about other characters, make sure to visit historical figures page!