Do you want to learn more about Booker T. Washington? Many people heard the name before and even know about Tuskegee Institute, which he founded. However, there are many interesting facts about Booker T. Washington other than these well-known facts. I hope that by reading this article, you will know more about and appreciate Booker T. Washington.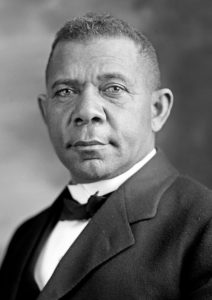 Who is Booker T. Washington?
Booker T. Washington was born in Virginia in the mid-late 1850s. After he finished his education, he became a teacher. This happened after the Civil War, which freed the African Americans. Then, he traveled hundreds of miles to study at a Normal Farming Institute in Hampton Virginia. Because he could not pay his tuition, he asked for a job and got accepted. By working many different odd jobs, he was able to finance his education.
After several years later, in 1881, he founded the Tuskegee Normal and Industrial Institute in Alabama. This institute is now known as Tuskegee University. The goal of this university was to educate African Americans different trades, especially agriculture. This is probably the most well-known fact about Booker T. Washington.
Booker T. Washington Facts
1. He was born as a slave.
Did you know the fact that Booker T. Washington was not free when he was born? Booker T Washington was born on April 5, 1856. A few years later, in 1865, he was freed because of the Emancipation Proclamation of President Lincoln.
2. He did great things when he was young.
When he was 25, he founded the Tuskegee Institute. As mentioned before, this school focused on teaching trades to African Americans. The amazing fact about Booker T. Washington is that he achieved great things when he was so young!
3. He believed that African Americans should not confront white people.
He was a strong advocate for being passive. He encouraged people to not stir violence. He also believed that desegregation will eventually come if African Americans become economically independent. Because of that belief, he founded the Tuskegee Institute.
4. He had strong opponents.
As his influence grew, he had many opponents that believed that being passive is not good for the African American community. One of the most vocal opponents was W.E.B. Du Bois. He was one of the founders of NAACP and is considered very radical in his belief. He did not believe that economic equality should come first but believed that higher education is the path to equality. This Booker T. Washington fact is not known to many people, especially the strife betweeh him and Du Bois.
5. He became an icon for African Americans in the last two decades of his life.
His influence was not strong during his youth. However, as he grew older, he gained a lot of followers and became one of the greatest leaders of African Americans. This period is from 1890s to November 14, 1915, when he died.
6. He became known for his "I have a dream" speech.
He spoke in Atlanta in 1895. His speech emphasized that African Americans should focus on being economically equal to the whites. He believed that this way was the only way to achieve equality in other areas such as socially and politically. By being economically equal, African Americans will be able to gain respect from the white people, which will lead the equality.
7. He wrote many books.
I'm sure that you've heard of his autobiography, "Up from Slavery." You might have even read parts or the whole book for just leisure or for school. This was his second autobiography, and it was published in 1901. It is also his most famous book. Including Up from Slavery, he wrote 14 books throughout his lifetime. He was quite an author, right?
8. He got an invitation to go to the White House.
You might ask, "What is the big deal about that?" It is true that famous people visit the White House often. However, it was a big deal when President Theodore Roosevelt, in 1901, invited him for dinner at the White House. Why? Because he was the first African American to be invited to the White House! Isn't that a cool Booker T. Washington fact?
9. He might have died from high blood pressure.
As mentioned before, he died on November 14, 1915. The reason for his death might be high blood pressure. This was the assumption of the doctors after he has died.
10. His fame continued after his death.
Like many important historical figures, Booker T. Washington's fame did not stop at his death. His legacy, fame, and idea continued to live on. To commemorate him, Franklin County, Virginia made the House where he was born to as a national monument. This happened 100 years after he was born.
In October 2009, a park was built for him. It is named Booker T. Washington Park, and it is located in Malden, West Virginia. This is just a few examples that the nation has done to commemorate him.
I hope that you have learned something new about this great man after you have read the article, facts about Booker. T. Washington. If you want to learn more, visit historical figures page.