Do you want to know more about the life of Andrew Jackson? If so, you have come to the right article. This article will inform you of various facts about Andrew Jackson so that you will have more insights about his life. However, before we get into the facts, why don't you read a little background about Andrew Jackson.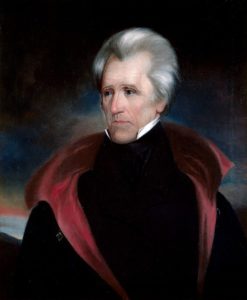 Who is Andrew Jackson?
Born on March 15, 1767, Andrew Jackson grew up to become the seventh President of the United States of America. On top of this, he was an American Statesman and soldier. He served two terms as president, from 1829 until 1837. He passed away in 1845.
Interesting Facts About Andrew Jackson
1. He Was a Prisoner of War During the American Revolution
While Andrew Jackson was only around 13 years old at the time, he joined the Revolutionary Army as a courier. Sometime in April of 1781, Andrew and his brother, Robert, were taken captive by the British Army and became prisoners of war. During his two week stay as a prisoner, Andrew was told to polish shoes. Andrew refuge, which made the British officer draw his sword and slash Andrew's hand to the bone and gashed his head. These injuries left scars for the rest of Andrews life. After two weeks, the boys were released and while Andrew recovered from the ill-treatment, his brother did not and died shortly after their release.
2. Andrew Jackson Detested Paper Money
Even though Andrew Jackson's portrait is one the American $20 bill, he actually did not like paper money. During Jackson's life, the value of paper money went down, which harmed his wealth. From that moment on, Jackson only trusted gold and silver. In fact, Andrew Jackson closed down the Second Bank of the United States because the business could manipulate money so well.
3. He Became the Target in the First Assassination Towards an American President
Since Andrew Jackson's presidency, there have been a few assassinations of American Presidents, most notable Abraham Lincoln and John F. Kennedy. There have also been several assassination attempts towards an American President. Andrew Jackson can lay the claim to becoming the first president to become a target for an assassination. This event occurred on January 30, 1835, when Jackson was leaving the funeral of a congressman in the United States capital. The man, Richard Lawrence, was a house painter who shot at Jackson standing feet away from him. Both the guns Lawrence used misfired and Jackson charged at Lawrence with his cane. Jackson was taken into custody and upon investigation of the guns, it was found that they were in perfect working order. To this date, no one knows why both the weapon misfired.
4. He Killed a Man in a Duel
Andrew Jackson was known to quickly challenge people to a duel for various reasons when they angered him. In fact, it is estimated that he was involved in dozens of duels, possibly up to 100, during his lifetime. One duel in 1806 caused Jackson to be shot in the chest by his opponent. Luckily, for Jackson, the bullet missed his heart. He regained his composure as well as he could, raised his pistol, and shot his opponent, who later died.
5. Andrew Jackson Adopted Two Native American Boys
While Andrew Jackson is known for his ill-treatment against Native Americans when he signed the Indian Removal Act and led battles against them in wars, he saved two Native American boys from the battlefield. The first one, named Theodore, he sent to his wife after finding him abandoned during the Creek War of 1813. Theodore would pass away the following year. During that same war, Jackson found another baby who was laying in his mother's arms. His mother was dead, so Jackson took the baby and sent him to his wife with a note stating that he was given to him after they found his mother. They named the baby Lyncoya and he lived until 1828 when he died from tuberculosis.
6. Winner of Presidency by Popular Vote Three Times, Though He Only Served Two Terms
Andrew Jackson became the seventh president in 1828, after receiving the popular vote. However, this was not the first time he ran for presidency. In 1824, he ran against John Quincy Adams and received most of the popular vote but not the majority. Because neither Jackson or Adams received the majority, it was up to the House of Representatives to decide. They decided on Adams. Four years later, Jackson would run again, and this time receive the majority of popular vote and become president. In 1832, he ran a second term, won the majority, and remain president for another four years.
I hope that you enjoyed learning about these facts about Andrew Jackson. If you did, I highly recommend going to Historical People Page!