Do you want to learn some facts about Amelia Earhart? This woman was one of the most important figures in the history of aviation, and her life was full of incredible feats. So, before we jump into the fascinating details of her life, let's start with her background.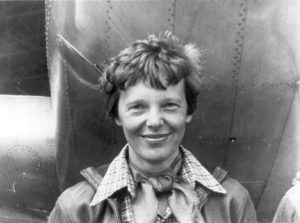 Who was Amelia Earhart?
Amelia Earhart was born in Kansas, in 1897. She was the daughter of a lawyer and had a little sister. After some difficult times when he was young, she took flying lessons in 1921 and became an adventurous aviator. She achieved important "firsts" in the field, setting numerous world records. Earhart became a celebrity and received several honors for her achievements, such as the United States Distinguished Flying Cross. As you may already know, she disappeared during her last flight. In her last flight, she was trying to set another record, which was longest journey across the globe. Her flight disappeared in 1937, and the events of her vanishing are still discussed today.
Interesting Facts about Amelia Earhart
1. She was adventurous since she was a child.
The young Amelia Earhart has been described as a tomboy because of her personality. Along with her sister, she loved playing outside and collecting insects. She also used to wear "bloomers" instead of more feminine dresses, which were divided pieces of clothing for women.
Something interesting is that she went to a fair when she was 10, where she saw a plane for the first time. However, she wasn't really interested in it, even if his father wanted her to take a flight.
2. She worked as a nurse during the First World War.
After she graduated from high school, in 1917, she started working as a nurse at a military hospital in Toronto. She got sick there due to the Spanish flu pandemic. She spent almost a year with painful symptoms, and even if she went through minor operations, none of them were successful. Amelia suffered from symptoms and pain related to her sinus for the rest of her life.
3. She took flying lessons with Neta Snook.
In 1920, Amelia went to an airfield where she took a flight for the first time and decided that's what she wanted to do for the rest of her life. The following year, she saved money and started taking flying lessons with Neta Snook. In case you don't know it, Neta Shook was the first female aviator that ran a commercial airfield and had her own business related to aviation.
4. Amelia Earhart set more than 15 world records.
During her career as an aviator, Amelia always wanted to innovate and prove that women could be as good as men. This resulted in setting more than 15 records.
Just a year after she finished her flight studies, she set a record for women in aviation with a record of an altitude of 14,000 ft. In 1928, was the first woman who did a trans-Atlantic flight, and four years later she became the first person to do it twice and the first woman who did it alone. She also set speed records and became the first person that flew from and to different cities in the U.S.
5. Amelia Earhart dropped out of college.
Although she was a brilliant aviator, Amelia wasn't really into school. After graduating from high school, she tried to study at university but always quit.
She started a program at Ogontz School, at the Pennsylvania State University but she didn't finish it. Then she started studying at Columbia University but dropped out after a year. She went back and tried to continue her studies but never finished. She also had plans to apply to the MIT.
6. She dedicated to much more things than just aviation.
Before becoming an aviator, Amelia had different jobs. As we said, she worked as a nurse during the First World War. After that, she worked as a photographer, stenographer, and a truck driver. This is because she needed $1,000 to do her flight studies.
Once she was famous for her achievements as an aviator, she published three books and became the editor of Cosmopolitan magazine. She also worked at different universities and was a member of important aviation organizations, such as National Airways.
7. Amelia Earhart was the first president of The Ninety-Nines.
The Ninety-Nines was founded in 1929 by female aviators and it still exists nowadays. Amelia Earhart suggested the name because they invited 117 licensed female pilots and only 99 attended. She was the president of the organization for three years.
8. She had a clothing line.
After designing the flight suits of The Ninety-Nines, Amelia decided to design a clothing line for women that needed more practical and comfortable clothes. Her clothes were sold all over the U.S. in different department stores like Macy's.
9. Her disappearance is still discussed today.
During the second attempt of her last flying project, in which she wanted to do the longest journey across the world, Amelia disappeared along with her companion. She had already completed more than the half of the journey and there were only 7,000 miles remaining, but her flight disappeared somewhere between Nukumanu Islands and Howland Island.
Despite the efforts made, her bone remains weren't found. In 2018, an American anthropologist claimed that a skeleton found in 1940 matches Earhart's characteristics. However, many people doubt the accuracy of his studies.
I hope that enjoyed learning about Amelia Earhart facts. For more information about other famous people, visit historical people page.