Welcome to the article: interesting facts about Alexander Fleming. This time, we will talk about one of the most important men for modern medicine. So, sit back and enjoy all the interesting information we will share today!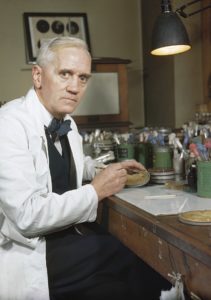 Who is Alexander Fleming?
A great achievement in science was discovering that certain diseases are caused by bacteria, possible through research of many scientists. However, many of these diseases existed despite the efforts of developing powerful vaccines. That changed through the great discovery of the microbiologist and physician Alexander Fleming, who discovered penicillin.
Alexander Fleming was born in Scotland to a peasant family, but he moved to London and studied at the St Mary's Hospital Medical School. There he worked with Sir Almroth Wright and became his assistant. He was inspired to do research that led to the discovery of penicillin during the First World War when he worked at hospitals treating wounded men. Besides penicillin, he made other important findings and wrote many works in his field.
Interesting Facts about Alexander Fleming
1. He didn't receive adequate education until he was in his twenties.
Alexander Fleming was born to a peasant family with three siblings in 1881. His father died in 1888. Until 1984, he did not receive much education. However, he showed that he was a good observer.
Later, he moved to London. Because he couldn't afford to go to a private university, he studied at the Royal Polytechnic Institution and worked in a shipping office. His future changed when an uncle died, and he received some money as his inheritance. Following the advice of one of his brothers, a physician, he started studying at St Mary's Hospital Medical School. There he got an MBBS degree (1906) and a BSc degree in bacteriology (1908).
2. Alexander Fleming realized how harmful antiseptics were during the First World War.
As we mentioned in his background, Fleming served during First World War treating wounded soldiers in the Royal Army Medical Corps. In those times, it was common to use antiseptics to treat wounds. Fleming observed that the reason why many soldiers were dying was the wide use of antiseptics.
He claimed that the antiseptics did a good job when were applied to shallow wounds. However, in deeper wounds, they just destroyed the beneficial bacteria that humans produced to protect the body. In other words, antiseptics killed both harmful and good bacteria, which led to many deaths.
He was supported by other scientists but because there were no alternatives, the use of antiseptics continued until the end of the war.
3. He was part of an art club.
Fleming joined a private club called Chelsea Arts Clu through the suggestion of the painter James McNeil Whistler. There, he did paintings using germs. He used specific species of bacteria for each color. When he did a brush-stroke, the paint was invisible, and colors started to appear once bacteria developed in the canvas.
4. Alexander Fleming discovered lysozyme by accident.
He discovered lysozyme after some mucus that came from a sneeze fell on a petri dish where a bacterial culture was growing. He noticed that the bacteria that were in the place where mucus fell had been destroyed. An enzyme called "lysozyme" was responsible for this bacteria.
5. Penicillin was also discovered by accident.
This is one of the really fascinating Alexandar Fleming facts. His laboratory was really disorganized, which was one of the reasons that led to the discovery of penicillin. In 1928, when he came from a holiday trip, he realized that in a culture of staphylococci he had left on a corner, a fungus was growing. He also noticed that it was destroying his colonies of staphylococci. This didn't happen to the rest of the cultures, so he later discovered that the substance that was destroying them was penicillin.
6. His discoveries were ignored for a long time.
After he did his great discovery, Fleming published his work, but most people ignored him. Even Fleming himself abandoned the investigation for a while. The problem was that using penicillin in the human body was difficult, and the first few experiments didn't have positive results.
Growing the mold where penicillin came from was hard and slow. Besides, isolating it and producing it in mass was even harder, so it was believed that this new substance wouldn't be effective when treating infections.
7. He shared the Nobel Prize in Medicine with other two scientists.
Once Fleming abandoned his investigation, a group of scientists in Oxford was able to cultivate penicillin and produce it in mass.
Ernst Boris Chain, Howard Florey, and Alexander Fleming received the Nobel in 1945. There were more scientists involved in the research such as Norman Heatley or Edward Abraham. However, the rules of the Nobel committee stipulate that only three people can share a prize.
From reading this article, I hope that you learned something new about Alexander Fleming. If you want to see more facts, visit historical people page.