Do you want to know more about the life of Albert Einstein? If so, you have come to the right article. It will inform you of various facts about Albert Einstein so that you will have more insights about his life. However, before we get into the facts, why don't you read a little background about Albert Einstein.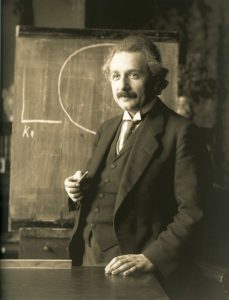 Who Was Albert Einstein?
Today, Albert Einstein is best known for his groundbreaking developed of the theory of relativity. Einstein came into this world on March 14, 1879. He joined his parents, Hermann and Pauline, in their Ulm home, located in the Kingdom of Württemberg, part of the German Empire. As a child, he excelled in physics and mathematics. Along with the theory of relativity, Einstein also developed a formula for mass-energy equivalence, theories of Brownian motion, Bose–Einstein condensate, Gravitational wave, Cosmological constant, and Unified field.
Interesting facts about Albert Einstein
1. No one knows what happened to his oldest daughter.
In 1896, Einstein began a love affair with a physicist in training, Mileva Maric. Before the two got married and had two boys, Maric gave birth to a daughter named Lieserl. No one really knows what happened to Lieserl because Einstein never spoke about his daughter. In fact, he never even told his family about his illegitimate daughter. Historians did not even learn about Leiserl's existence until the 1980s when they were reading some papers of Einstein's. The only theories that surround what happened to the daughter are that she passed away from illness either as a baby or in the early 1900s.
2. He offered Mileva his Nobel Prize in their divorce.
During the early 1910s, Einstein and his wife went their separate ways. Einstein left his family and moved to Berlin, where he began an affair with Elsa, his cousin. The divorce proceedings between Mileva and Einstein did not start until around 1919. Once the proceedings started, Einstein told Mileva he would give her a yearly stipend along with the money he would receive when he won the Nobel Prize. Mileva agreed but never saw any money from the Nobel Prize until 1922, when Einstein finally won the award.
3. Albert Einstein never failed math.
For decades, there have been rumors circulating around the world that when Einstein was a child he actually failed math. However, this rumor is untrue. In fact, Einstein quickly became bored with where his class was in math, so he began to study beyond what his class was learning. While Einstein dropped out of school at the age of 15 in order to avoid a military draft, he was always one of the top students in his class.
4. Albert Einstein was in charge of the building of the atomic bomb.
During the beginning of World War 2, he learned that scientists in Germany were working on building an atomic bomb for the Nazi's. This worried Einstein, so he got in contact with Hungarian physicist Leo Szilard. Then, he helped Szilard convince United States President Franklin D. Roosevelt to work on research for the atomic bomb. Einstein hoped that they would be able to finish the research before the Germans. While Einstein never actually worked on the Manhattan Project, he was sorry he mentioned anything about the research when bombs were dropped on Hiroshima and Nagasaki.
5. Albert Einstein's brain was stolen after he died.
He passed away on April 18, 1955. While Einstein had requested a cremation upon his death, Princeton pathologist Thomas Harvey, who performed the autopsy, ended up removing his brain. Harvey kept Einstein's brain under lock and key in his office. He then discussed what he had done with Einstein's son, who eventually allowed Harvey to study the brain of his father. Harvey then began dozens of studies to find out how Einstein's brain was different from so many other people. No tests have really given a true answer of what was different from Einstein's brain.
6 He was spied on by the FBI for decades.
During the early 1930s, Einstein left Berlin for the United States of America. He then took a position at the Institute for Advanced Study in Princeton, New Jersey. Not too long after this, J. Edgar Hoover and his FBI men started to pay attention to what Einstein was doing because Einstein supported pacifist, civil rights, and left-wing causes. Einstein was spied on for about 22 years through the FBI listening in on his phone calls, going through his garbage, and opening his mail.
I hope that you enjoyed reading these Albert Einstein facts. For more information, visit historical people page.