Do you want to learn facts about Alan Turing, the man who has a lot to do with the fact that you can read this from a computer or a cell phone? If so, let's start with Alan Turing's background!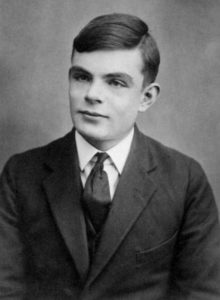 Who is Alan Turing?
Born in London, England, Alan Turing is considered as the father of theoretical computer science and Artificial Intelligence. He was a logician, computer scientist, mathematician, cryptanalyst, and theoretical biologist. He made great contributions to computer studies because he laid the foundation of algorithm and computation with a machine he created, the Turing machine. He also had an important role during the Second World War, when he designed a machine with which the government was able to decipher intercepted coded messages, allowing the Allies to defeat the Nazis.
Interesting Facts about Alan Turing
1. Since he was a child, he showed his great abilities in science.
When he was an infant, Turing was really interested in books, numbers, and puzzles. Once he started studying at school, his abilities became evident. He won the majority of the mathematical prizes that were given and was able to solve really advanced math problems, even before studying elementary calculus. Turing was a good student who always determined to study and go to class. He even developed his own chemical experiments!
2. Turing solved the Entscheidungsproblem by designing the Turing machine.
The Entscheidungsproblem, or the "decision problem", originated from David Hilbert, a German mathematician. To solve it, Turing designed a device, called the Turing machine, which proved that giving a general solution to the Entscheidungsproblem is impossible. This is opposite from what previous studies had established. He proved that the Turing machine was a universal computing device that could perform any mathematical computation if it was represented as an algorithm.
3. His role during the Second World War shortened the conflict by two years.
A day after war was declared, Turing joined the codebreaking agency in Great Britain. He focused on breaking the Enigma, which was a ciphering system that Germany used to encrypt their messages. Turing designed a machine called Bombe, which was used to solve the messages more efficiently than the previous device used, the bomba. It is calculated that his role during the Second World War shortened the conflict by two years and saved millions of lives, as it helped the Allies win the war.
4. He was a great athlete.
In addition to his intellectual abilities, Alan Turing was also a great marathon runner. He showed early signs of this when he was at school because he had to walk 90 kilometers to get there. When he worked at the GC&CS, he sometimes ran 64 kilometers to get to the meetings.
Turing ran for a club in Surrey. In 1948, he tried out for the Olympic marathon team, but he came fifth. His best time was of 2 hours 46 minutes, only 11 minutes slower than Thomas Richards, the British runner that won the silver medal that year.
5. Turing created a test that determines if a machine is intelligent or not.
In his seminal paper Computing Machinery and Intelligence (1950) about artificial intelligence, he proposed an experiment that could determine if a machine was intelligent or not. The "Turing test" consists of establishing if a computer can "think" when it has a conversation with a human interlocutor, and the result will depend on the ability of the interlocutor to distinguish if he's having a conversation with a computer or with a human being. In other words, if the person believes that is having a conversation with a human being and not with a computer, the computer can be considered as intelligent.
6. He also made contributions to mathematical biology.
In his article The Chemical Basis of Morphogenesis, he claimed that an arrangement of chemicals reacting and diffusing across space (ration-diffusion system) was able to explain "the main phenomena of morphogenesis". Morphogenesis is a process of developmental biology that causes the development of an organism's shape.
7. He was charged with gross indecency and convicted for being homosexual.
Alan Turing was found to be a homosexual by the authorities. Being a homosexual was illegal in Turing's time. So, the authorities gave him two choices: go to prison or undergo chemical castration. He chose the second one and received treatment for one year. A synthetic estrogen was injected to him and at the end, it left him with erectile dysfunction. A year later, Turing committed suicide by consuming an apple poisoned with cyanide.
I hope that these facts about Alan Turing were informative. For other facts, visit historical people pages.