Welcome to this article about the fierce Wolverine! Most people assume that this animal is a type of wild dog or bear but it is, in fact, one of the largest members of the weasel family. The popular character 'Wolverine' was indeed named after this animal due to its reputation for ferocity. Let 's take a look at some facts about this interesting beast.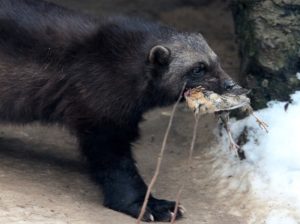 Wolverine Characteristics
The wolverine is also known as the carcajou or glutton. Its Latin name is Gulo gulo which can be translated to 'glutton' in reference to its large appetite.
Physically, it is a large, stocky animal which closely resembles a smaller bear. The claws on its limbs enable it to climb trees, rock structures, and cliffs easily.
An adult is roughly the size and weight of a medium-sized dog. As is the case with most species of the animal kingdom, the males tend to be larger than the females. Furthermore, North American wolverines tend to be smaller than Eurasian wolverines.
The fur coat of a wolverine is thick, oily and hydrophobic, which gives it good resistance to colder climates. Unfortunately, this has led to it being hunted for its fur due to their insulation properties.
Wolverines have a specialized molar tooth in the upper jaw that is rotated at a 90-degree angle. This enables it to tear and rip apart meat from animal carcasses that have been frozen. Isn't that a cool fact about wolverine?
It is also called the 'skunk bear', primarily as it has anal glands that secrete a foul-smelling liquid, similar to that of a skunk. However, unlike skunks which use these glands for defense purposes, these glands are usually used by the wolverine for courting and marking territory.
A female can give birth to around two or three babies during the late Winter/early Spring and only has one litter every 2-3 years.
Wolverine Distribution and Habitat
Wolverines are mostly concentrated in the Arctic, alpine regions of Siberia, Alaska and Northern Canada. They are also found in parts of Russia, northeast China, Mongolia, and the Baltic regions.
They are highly territorial animals and will vigorously protect their areas from other wolverines and potential threats that encroach their sites. Males can have a territory size of around 750sq km while females cover around 300 sq km.
Several nesting sites are distributed across each of their territories.
Wolverines are known to be solitary animals and are capable of roaming across long distances. A single individual can travel for around 15 miles per day in search for food.
Wolverine Diet
Wolverines are primarily considered to be scavengers. Their main diet consists of carrion or the decaying flesh of an animal. This tends to be mostly during the same period of reproduction/birthing of late Winter/early Spring.
They can normally find the carcasses themselves or they can fight other predators for it (if the predator has not finished the meal).
Aside from feeding on carrion, wolverines can be versatile predators while hunting for prey as well.
Because they are relatively slow and lumbering, they seldom chase or stalk prey. Instead, they will stay on top of trees and pounce on the prey on the ground.
The types of prey that are hunted by wolverines usually include smaller or medium-sized mammals, ranging from squirrels, chipmunks, rabbits, sheep, goats, small deer, moose, elk, and even coyote or wolf pups (in rarer cases).
The prey is usually hunted during situations where the wolverine is at an advantage, such as when they are caught in traps, immobilized by the weather or if the prey is newborn.
Due to the lower density of wolverines in the Eurasian areas, they are more likely to hunt for prey as opposed to their North American counterparts.
Wolverines are also thought to store their food for later periods, especially when there is a food scarcity.
Interesting Facts about Wolverine
The wolverine population has essentially declined due to habitat destruction, deforestation, and trapping.
It is one of the few species of animals that have a low population density but a large habitat range.
They are difficult to breed in captivity as they have high infant mortality.
The scientific name of the wolverine (Gulo gulo) is mostly due to its nature as quite a greedy eater. In addition to this, they are extremely fierce creatures which is what gave the inspiration for the Marvel Comics character, Wolverine.
Another interesting biological factor when considering female wolverines is their ability to have 'delayed egg implantations'. After mating, the fertilized egg will float within the uterus before implanting, so as to ensure that the offspring are born right on time when food is abundant.
I hope that you liked reading about these fascinating wolverine facts. If you want to learn more about other animals, visit animal facts page.