Thank you for stopping at Factsking.com for your Rabbit facts! Below are 38 interesting facts about Rabbits. If you are interested in these animal facts, don't forget to check out our other animal facts!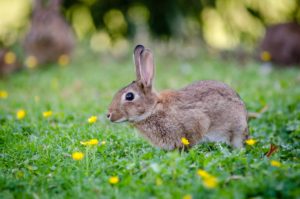 Rabbit Diet Facts
A Rabbit is a plant-eater, which means it's a herbivore.
Rabbits often eat foods like hay, vegetables, and grass.
It is important to keep Rabbits eating healthy and the foods they can digest well because they do not have the ability to vomit.
Rabbits chew about 120 times a minute.
Rabbits eat their own poop because they need to digest some of their food twice.
Rabbit Size
A Rabbit's ears can grow as long as 4 inches or 10 cm; however, some species of Rabbits can grow longer ears.
A Rabbit can grow to become 4 feet long.
Facts about Rabbit Characteristics
When Rabbits are born, they do not have fur and their eyes are closes.
Rabbits can live to about to a few years old in the wild and around 8 years if kept as pets.
They can turn their ears 180 degrees, which helps them be able to pinpoint the exact location of the sound.
Rabbits need space and time to build up their bones when they are young. If a young bunny does not receive space to jump around, it cannot strengthen its bones. Therefore, when it gets older, the bones will break easily.
If a Rabbit is spayed or neutered, they can live as long as 12 years old.
A Rabbits tooth never stops growing, but they also wear down their teeth quickly because they chew so much. Therefore, their teeth never get too long.
Rabbits tend to be the most active in the evening and in the morning as they nap a lot during the day. This is one reason they make excellent pets for people who are working or in school during the day.
A Rabbit's ears can hear from two directions at the same time.
Rabbits can be terrified of water and become hurt when they thrash around the water.
Rabbit Behaviors
Rabbits are territorial and do not like it when people or other animals impose on their space.
Rabbits use their bodies when they are communicating. For instance, if they are worries, they will change their body position and clench their facial muscles.
Rabbits are social and tend to get lonely when they are by themselves.
Rabbits can be trained to do many different things, such as use a litter box.
Rabbits want to be very clean so they will groom themselves, or allow others to groom them, at least five times a day.
When a Rabbit is happy, it will jump in the air and spin around. This is called binky.
Another way to tell that a Rabbit is happy is to listen to the chattering noises with its teeth, which people refer to as a Rabbit's purr.
If you have a pet Rabbit and want to help it prevent osteoporosis and keep it happy, you should play with the Rabbit and makes sure it gets exercise at least four hours a day.
Rabbit Threats
Humans are a big threat to Rabbits as they tend to kill them for their fur.
Rabbit Habitat Facts
The European Rabbit is known to live underground in what is called a burrow.
A Rabbit burrow tends to have rooms, which are their nesting areas. They also tend to have a lot of exits for a fast escape if needed.
Rabbits tend to live in groups.
Rabbits are often chosen as pets, these Rabbits are commonly known as House Rabbits.
Rabbits are often found in animal shelters and are tend to be one of the most common animals brought to an animal shelter.
Rabbits are the third most comment household pet, coming right after dogs and cats.
Rabbit Family
A baby Rabbit is also called a kit or kitten.
A female Rabbit is also known as a doe.
A male Rabbit is also known as a buck.
Rabbits are known to be able to reproduce very fast and they have multiple litters of babies every year.
The gestation period for a Rabbit is only about a month.
Rabbits can have about 12 babies in one litter.
Rabbits are not the same species as a hare.
I hope that these facts about rabbits were helpful. If you want more information about other animal facts, visit this page.