Welcome to this article about the orangutan! Orangutans are the world's largest arboreal (tree-living) mammals who are noted for their deep red fur and long arms. They are also one of the closest relatives to humans, sharing a high percentage of our genetic code and happen to be extremely intelligent animals. Join us as we take a look at a few facts behind this impressive primate!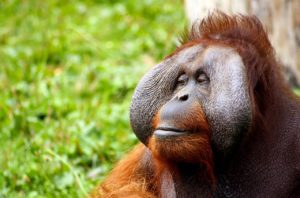 Scientific and Physical Characteristics
The orangutan belongs to the genus Pongo. Typically, two main subspecies exist: the Sumatran orangutan (Pongo abelil) and the Borneo orangutan (Pongo pygmaeus). An additional species called the Tapanuli orangutan (Pongo tapanuliensis) was discovered recently, which is a group that diverged from their Sumatran counterparts.
The word 'Orangutan' is derived from the Malay/Indonesian words which loosely translates to 'person of the forest'.
The orangutan has a bulky body frame with long, thin arms but short legs. It is one of the few primate species without a tail. They have a large head as well.
The Sumatran orangutan has a longer face, a lengthier red coat and a thinner body size compared to the Borneo orangutan.
Males can grow facial fur and also show prominent cheek flaps as a sign of dominance in the community. There is distinctive sexual dimorphism where the females are typically smaller in body frame compared to the males.
In terms of height, a male can grow up to 4.5 ft and weigh around 70kg while a female can only grow up to 4 ft and weigh around 40 kg.
The fur coat is usually red-brown with black skin.
Their hands show a lot of similarities to human hands with an opposable thumb and four extra fingers. However, the bones in their fingers (as well as limbs) are well adapted in order to enable the orangutans to swing through trees and get a good grip.
Orangutan Facts about Habitat and Distribution
Orangutans are exclusive to the rainforests of Sumatra and Borneo where the two main species are found.
These great apes mostly live in primary and secondary rainforests. They are also found in swamp/marshy areas and mountainous regions. However, their versatility of habitat is evident as they can survive even in grasslands, cultivated fields etc. as long as there is an abundance of trees.
Bornean orangutans primarily live at altitudes of up to 1000m while the Sumatran orangutans can live as high as 1500m.
They are the only species of great apes that are mostly arboreal (choosing to live on trees) and most of their lives are spent on the trees so they are rarely seen to be on the ground.
Orangutans build elaborate and stable nests in a careful process involving braiding branches, twigs and leaves on the trees. These nests even include a 'mattress', 'pillows' and 'blankets'!
Diet
Over 50% of the diet of an orangutan consists of fruit, particularly ficus fruits which include figs.
However, they have been studied to eat around 400 different types of food ranging from leaves to plant shoots and even bird eggs.
An interesting characteristic of these primates is that they have been observed to use leaves as gloves in order to crack open hard-coated fruits that have pointed edges.
They have a need for high caloric foods which is often not readily available, so when the orangutan is not foraging for food, it is usually resting or sleeping.
Their main predators are tigers, wild dogs, crocodiles, and clouded leopards.
Orangutan Behavior
Orangutans spend around 2-3 hours per day foraging for food. They preserve their energy by resting on the trees most of the time or they might travel through the forest. During the evening, they will prepare to sleep by arranging their nests.
Adult male orangutans are fairly solitary and do not usually tolerate others. This means they can threaten other orangutans that enter their territory. Contact is only made during the mating period with other females. After mating, the male will return to a solitary lifestyle once again.
Adult females usually remain with their young ones and have been observed to be in groups with other females.
As mentioned, orangutans share up to 96.5% of the genetic code that humans have! This means they have interesting personality traits. For example, scientists have discovered them to show signs of empathy. Individuals may also have their own unique 'personality'.
This suggests that their intelligence comes as no surprise. They use tools in a creative manner for activities beyond simple foraging and nest building. For example, they have been observed to extract seeds and insects from fruits before consuming it using extraction tools.
They have also shown potential for communicating through sign language. An orangutan raised in captivity called Jasmine learned around 40 different signs through teaching.
Orangutans are critically endangered animals with only around 100,000 animals living in the wild. Deforestation remains the biggest cause of their population decline.
Numerous conservation organizations are working to combat this issue for the rescue and reintroduction of these intelligent animals to the wild.
I hope that these facts about orangutan were helpful to you. If you want to know more facts about animals, visit animal facts page!