Welcome to this article about opossums! These fascinating critters happen to be thought of as rather dim-witted scavengers and are most known for their remarkable ability to act dead! However, there is so much more to these animals as they are extremely smart and can be very beneficial to humans in general. Join us as we take a look at a few facts that make up the opossum!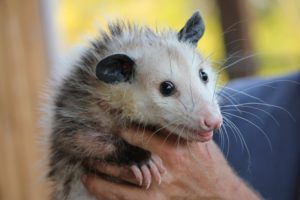 Scientific and Physical Characteristics of Opossum
The opossum is part of an order of the marsupials belonging to This order comprises of around 103 species.
Marsupials are animals that birth offspring and carry them in a pouch on their body. The order Didelphidae translates to 'two wombs' which is a characteristic of female opossums.
They are not to be confused with the 'possums' which are Australian marsupials. However, the shortened form of 'possum' is acceptable for usage instead of opossum.
Opossums tend to grow to the size of a house cat.
They have a grey coat of fur around their whole body except for the ears, feet, and tail.
They have a long snout, narrow head and a full jaw (comprising of around 50 teeth) with large canines.
They have a prehensile tail which the opossum may use as an additional appendage or limb for climbing or holding onto a tree or branch.
The tail and parts of the opossum may have scutes, which are bony external plates.
Perhaps the most interesting fact about the physical nature of the opossum is their genital regions. Males tend to have a forked penis while females have a divided uterus (giving two wombs, hence the name of their scientific order).
Habitat and Distribution
Opossums are strictly New World animals and are exclusive to North, Central and South America.
They are thought to have originated from South America and crossed to North America via the Great American Interchange (a large prehistoric event during the separation of the continents and connection through Panama, which caused a mass migration of fauna as well as flora).
The habitat of opossums varies. Although they are common in wooded areas, deciduous forests and farmland, they have been observed to enter neighborhoods as well. They also prefer wet areas such as swamps and marshes.
Their flexible diet, biology, and reproductive habits enable them to survive in various areas and under diverse conditions.
Opossum Diet and Behavior
The opossum happens to be an omnivorous animal and can eat a diverse range of food. This includes different plants and fruits as well as small insects and animals.
With human activity, they have also earned a reputation for eating garbage from trash cans in human communities. They have also been observed to eat carrion.
Opossums are generally solitary animals and rarely meet in groups.
They will remain in an area for as long as there is a ready availability of food and water.
When threatened, they will initially exhibit behavior such as a deep growl and hissing in order to ward off any predators or threats.
Perhaps their most famous feature is the ability to 'play possum'! This is when the opossum will mimic the appearance and behavior of a dead animal. It will draw its lips back, bare its teeth and start to drool with the eyes closed/half-closed. In order to completely sell this experience, it further secretes a foul-smelling substance from the anal glands to mimic the smell of rotting.
This is actually an involuntary response and is out of the control of the animal. However, it is a very creative and impressive defense mechanism. The animal can even be prodded and carried away and it still does not break its act. It will maintain this for up to 3-4 hours before 'regaining consciousness'!
When considering the opossum's reproduction, the females do have a placenta (which does not last long). The offspring are born early and are carried in the pouch to nurse from the teats.
A large number of babies can be born but unfortunately, only a few will be able to locate a teat for nursing so around 13 babies can be born. The young will usually remain in the pouch for around 100 days before coming out.
The opossum has a relatively short life span of around 2 years (or 4 years in captivity).
Other interesting facts about Opossums
Opossums are known for eating ticks that spread Lyme disease which helps with the spread of the disease.
They have impressive memories for an animal and have been studied to very clearly remember the food that they have eaten.
They have high immunity and can even withstand powerful snake venom! This has been used in science for anti-venom studies.
Another reason as to why they rarely transmit viruses is because their body temperatures are unusually low for a mammal which makes them immune to most viruses.
I hope that you enjoyed learning facts about opossums. For more information about other animals, visit animal facts page!