Welcome to this article about the mountain lion! Also known as the cougar or puma, this animal is one of the largest wild cats in North America. These creatures are quite elusive and rarely seen in the environment. Join us as we take a look at some of the interesting facts behind the mountain lion!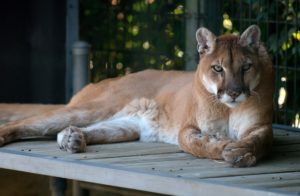 Mountain Lion Scientific and Physical Characteristics
The scientific name for the mountain lion is Puma concolor. They are also known as puma, cougar, catamount or panther.
It is considered the largest species of wild cat in North America and second heaviest after the Jaguar.
Although they are of a larger size, they share a closer resemblance to the smaller felines in terms of physical features and are therefore not considered to be part of the big cat family.
There are 32 subspecies of mountain lions including the North American cougar, Argentine cougar, and Southern South American cougar.
A mountain lion has a round head with erect ears, powerful jaws, and retractable claws.
They are the fourth largest wild cat species in the world, standing up to 90 cm tall and having a length of around 8 ft.
Males tend to weigh around 180 lbs while females weigh around 110 pounds. Despite their size, they are incredibly agile and slender creatures.
Compared to big cats, mountain lions do not usually 'roar'. They have minimal communicative noises, usually resorting to hisses, growls, and purrs which give them more similarity to a house cat.
They have a general tawny coat (similar to that of a lion, hence the name). The infants are normally spotted with rings on the tail, whereas the juveniles will also have dark spots on certain regions.
Their front limbs tend to have large paws and long hind legs. This enables them to be excellent jumpers, often leaping up to heights of around 20 feet. The long legs allow them to sprint rapidly up to 50 mph.
Habitat and Distribution of Mountain Lion
The mountain lion has one of the largest distributions of wild animals in the Americas. Their range spans from the Northernmost areas of Canada to the Southern tips of the Andes mountains.
This distribution is due to its high versatility and adaptability towards any habitat type. It can be found from forests to deserts, although it shows a preference towards areas with lots of canyons, mountainous regions, and dense bushes. They can survive in areas with very little vegetation as well.
Like most species of the cat family, the mountain lion is mostly solitary. Mothers will live with the kittens until they grow up while other adults will be met with on rare occasions. However, they can share their kills with other adults.
Their home ranges can be large in size but vary for the most part. Territories are marked by scratch marks on trees, urine, and fecal marking. They can be territorial animals and males will often compete with each other for territory.

Facts about Mountain Lion's Diet and Behavior
A mountain lion is a general predator and a carnivore so it can eat any animal it catches, whether it is an insect or a large ungulate.
They are capable of hunting large species of deer, elk, and moose.
The body mass of the prey that is consumed by the mountain lion usually varies. In regions closer towards the equator, they will hunt and feed on prey that is of a lower mass.
Mountain lions typically hunt their prey by ambushing them rather than sprinting or chasing after. With its strong limbs, it usually waits until the prey comes near before jumping on to it and killing it via a powerful neck bite. The jaws are incredibly powerful so they can easily crush the prey's windpipe or even snap the neck.
A single adult can survive on one large prey for around two weeks. It can save the carcass by hiding it and coming to feed on it over a few days.
Females usually have one litter every 2 years or so. The litter can be between one to six cubs. Only the mothers are involved with raising their young and the juveniles will remain with their mother for at least two years before surviving on their own.
Mountain lions are abundant in terms of the population but encounter with humans very rarely.
The mountain lion populations carry only a small threat and are not endangered as of yet. However, they have been hunted due to their interference with livestock and are also treated by deforestation, habitat loss and poaching.
I hope that you learned from reading this article on mountain lion facts. If so, you should definitely visit animal facts page!