Thank you for stopping at Factsking.com for your Killer Whale facts! Below are 33 interesting facts about Killer Whales. If you are interested in these animal facts, don't forget to check out our other animal facts!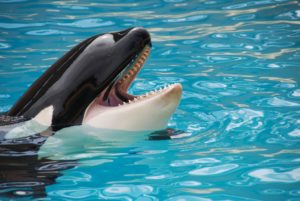 Killer Whale Diet
When Killer Whales are on the search for food, they can dive a depth of 330 feet or 100 meters.
Killer Whales eat many other types of animals and sea life, such as sea turtles, sharks, dugongs, seals, rays, sea birds, squid, octopuses, and fish.
Killer Whales can have a hard time catching some of their pray to eat, such as a dolphin. This is because dolphins can swim so fast that the Killer Whale cannot open its mouth because of the harm it would cause for their lower jaw.
Killer Whales will often stun their food, especially dolphins before they eat them as this makes their prey easier to catch.
While not common, Killer Whales have also been known to eat moose. Isn't that a shocking fact?
Baby Killer Whales nurse several times an hour because they only nurse for about 5 to 10 seconds at a time. They will nurse like this constantly, until they are mature enough.
Baby Killer Whales are normally weaned at around a year old.
Facts about Killer Whale Size
Killer Whales are the largest members of the Dolphin family with males growing at around 20 to 26 feet or 6 to 8 meters long and weigh around 6 tons.
Female Killer Whales are a bit smaller than the male Killer Whale, measuring at about 16 to 23 feet and 5 to 7 meters and weighing around 3 to 4 tons.
Killer Whales can still grow bigger as the largest Killer Whale ever recorded was 32 feet long or 9.8 meters and weighed around 10 to 11 tons.
Large male Killer Whales can have a two-lobed tail that measures 9 feet or 2.75 meters from tip to tip.
Because of their large size, Killer Whales are the fastest marine mammal with speeds up to 35 miles per hour or 56 kilometers.
Baby Killer Whales measure at a length of about 8.5 feet or 2.6 meters.
Baby Killer Whales can weight anywhere between 265 to 353 pounds or 120 to 160 kg when they are born.
Killer Whale Characteristics
The average lifespan for male Killer Whales is around 30 years but can live up to 60 years old.
The average lifespan for females Killer Whales is about 50 years.
Killer Whales are instantly recognizable due to their black and white coloring. The white is underneath and then they have white patches by their eyes and the black color is on top.
Killer Whales have a two-lobed tail, which is called a fluke.
A female Killer Whale will give birth once every three to ten years and they only have one baby at a time.
The gestation period for a female Killer Whale is around 17 months.
Baby Killer Whales are known as a calf.
Killer Whales can live anywhere from 50 to 100 years.
Killer Whale Behavior Facts
Killer Whales engage in several behaviors at the surface of the water for various reasons, such as tail-slapping and breaching. When Killer Whales breach, they jump completely out of the water, so they can breathe. When they slap their tails against the water surface, they are trying to communicate, play, get rid of parasites, or mate.
Killer Whales are very social animals.
Killer Whales travel in groups known as pods, which average around 40 Killer Whales.
Killer Whale Habitat
Killer Whales are found in all parts of the ocean.
Killer Whales live in a variety of ocean environments from the tropical seas to the Arctic regions.
The Killer Whale is generally found near the shore and at higher latitudes.
The Killer Whale does not stay in one area all its life as they are known to travel long distances from time to time.
Killer Whale Threats
The Killer Whale's black coloring on top helps them blend into the waters below so any threats above the sea level cannot see them.
Killer Whales are on top of the food chain, which means no other animal hunts for them.
Humans pose as the biggest threat to the Killer Whale.
Killer Whale Family
The Killer Whale is a member of the Dolphin family.
I hope that you learned something by reading these killer whale facts. If you want to know facts about other animals, visit animal facts king.