Do you want to know some interesting facts about the cougar? Here you will learn what you need to know about this extraordinary feline. We'll cover everything from its characteristics, habitat, and diet to some interesting facts, so sit back and continue reading!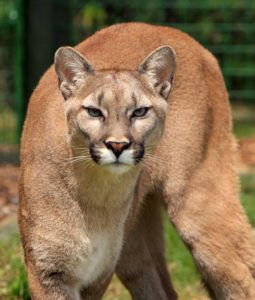 Cougar Characteristics
The cougar belongs to the family of small cats, but it is the biggest of them. These felines are usually 2.4 m long, including their tails, and their weight can go from 52 kg to 100 kg.
Cougars have strong and defined neck, jaws and forequarters, along with round heads which let them hunt big animals effectively. They also have retractable claws and their back legs are longer than their front ones. Because of this, they can leap long distances and are very fast during short-sprints.
Their color is usually golden brown, but depending on the zone they inhabit, this may vary. Some cougars have a grey or red tone, and present discoloration on the underbody area.
Cougar Habitat
Cougars have the largest range in the American continent. Their habitat goes from Northwest Canada to the Andes, which goes through South America. They have a great adaptation ability, so they can be found in almost any area in which they are able to hunt. This means that cougars inhabit forests, canyons, mountainous deserts, and zone with limited vegetation.
Cougar Diet
As you can imagine, cougars are carnivores. These felines will eat any animal they can hunt, going from small insects to big ungulates. Cougars can be found everywhere in the Americas, so their prey will depend on the area they inhabit. However, their favorite targets are ungulates, especially deer and elk.
Unfortunately, opposite from the situation in North America, certain areas of Central America and South America don't have large amounts of ungulates. In those cases, cougars prefer mid-size animals, like large rodents or animal species that are typical from the region, like capybaras or guanacos.
Interesting Facts about the Cougar
1. Cougar? Puma? Mountain Lion? Panther? They are all the same!
If we consider the huge range of the cougar, its incredible variety of names is no surprise at all. Some of these names are linked to Indigenous references and there are many different ones even within the same language. For example, "puma" is the name used by scientists, but it is also the name used in Spanish and Portuguese. "Mountain lion" was first used in 1858. It is believed that it was called like that because lions and cougars have very similar colors.
In fact, the cougar hasGuinnessess record! It is the animal with the biggest amount of names. In English alone, there are 40 different ways used to refer to the cougar.
2. Interesting records of Cougar
Besides being the animal with the largest number of names, the cougar is also unique in other areas. It is the wild animal with the biggest range in the American continent. It is also the biggest animal you will find next time you visit its habitat in North America and the heaviest animal in the Americas, surpassed only by the jaguar.
3. The Black Panther has nothing to do with the cougar.
As we said, cougars are also called "panthers". There are even some subspecies that are mostly known by this name instead of cougars. However, you should not confuse panthers and black panthers. They are both felines but they do not belong to the same family of cats and are very different.
Actually, a black panther is a color variant of felines that belong to the big cat species (cougars belong to small cat species). They are completely black jaguars or leopards, and black cougars do not exist.
4. They were eliminated from the eastern region of North America.
Hunting and the invasion of the habitat of the cougar have affected this feline for decades now. The cougar was completely eliminated from eastern North America in the 20th century for the same reason. The only exception is the subspecies found in South Florida called Florida panther, which is endangered.
Nonetheless, in western North America, there's still a big cougar population. Also, the World Conservation Union does not consider it as endangered.
5. Although Cougar is one the biggest feline species, it cannot roar.
Only a few felines are bigger than the cougar, like the lion or the tiger. However, it is not considered as a "big cat" because it cannot roar. They do not have the features that allow bigger cats that belong to the Panthera genus to roar. Its characteristics are related to smaller cats, like the domestic cat. Actually, the sounds they make, like purrs and growls, are similar to the sounds domestic cats produce.
I hope that you enjoyed reading about these cougar facts. If you want to know more about other animals, visit animal facts page!